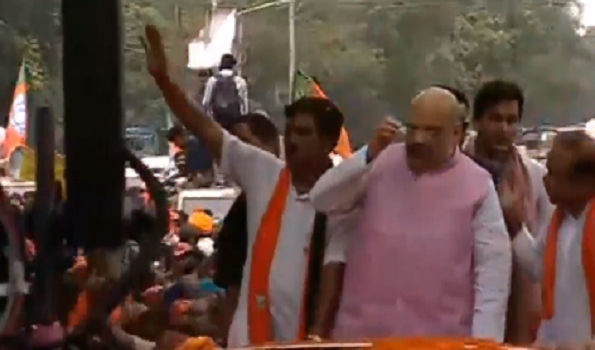 The saffron brigade virtually laid a siege to Esplanade, Dharmatalla and parts of central Kolkata hours before the maiden roadshow of Bharatiya Janata Party president Amit Shah as thousands of party supporters wearing saffron turbans and colourful dresses took to the roads bringing vehicular traffic to a standstill.
BJP's observer Kailash Vijayvargiya alleged that the Trinamool Congress government attempted to skirt the road show by removing and demolishing hoardings and posters of Prime Minister Narendra Modi and Shah along the roads which leads to the ancestral home of Swami Vivekananda in north Kolkata.
He alleged that the goons of the TMC and policemen forcefully removed the posters saying they were abiding the election commission's order. He said the BJP had permission from the election commission to hold road show of Amit Shah. Vijayvargiya also had a verbal duel with a police official over erection of a stage at Subodh Mallick Square.
However, the posters were again put by the BJP activists, who also broke the windscreen of a van at Dharmatala.
Meanwhile, thousands of BJP supporters from all walks of life assembled in the city's main hub to participate in the road show, ahead of seventh and last phase polling on May 19. Marigold flower petals were showered on the roads all the way from Esplanade to Shimla Street,Vivekananda's house, a stretch of about 6 km.
Tribals with traditional drums and the women with earthen pitchers on their head marched the street in tandem chanting "Jay Sree Ram", a slogan that created controversy between the BJP leadership and chief minister Mamata Banerjee after the TMC government arrested three persons for raising the slogan in a village recently. (UNI)
22 Views