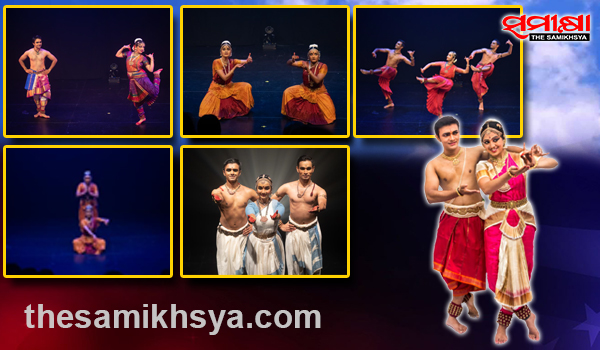 By SUNIL KOTHARI
Gayatri Sriram, disciple of Minal Prabhu, who in turn studied Bharatanatyam at Kalakshetra under direct supervision of legendary Rukmini Devi, runs her dance academy Sruti Laya School of Dance in Singapore. She also organizes annual Samarpana Dance Festival showcasing new works of dancers from within Singapore and from abroad. After a hiatus of three years once again Gayatri mounted Samarpana Dance Festival at National Library Drama Black Box for two evenings on 10th and 11th November this year.
The artists featured were two young dancers from Bangalore and two from local Temple of Fine Arts institution. The major dance which followed their performances was for two evenings ABHA, dance choreographic work of Bangalore based Bharatanatyam dancer, choreographer Parshvanath Upadhye.
Shweta Venkatesh, disciple and daughter of Guru Dr Superna Venkatesh studied Bharatanatyam under her mother and also Kathak.She obtained MA in dance with Gold Medal from Bangalore University. After her ranga pravesh in 2009, she has been performing regularly all over India in major festivals and also has travelled abroad winning laurels for her performances, both in Bharatanatyam and Kathak.
Along with another young male Bharatanatyam dancer Nidhag Karunad, trained in Bharatanatyam by Suparna since 2014, Shweta presented duets.Nidagh has also studied Yakshagana. A multi-talented dancer he has studied Kathak under Mysore B.Nagaraj. Recently he appeared with Malavika Sarukkai's choreographic work Thari-The Loom. He has been drawing attention of the cognoscenti. He has a good stage presence and performs with energy and precision.
Shwetha has inherited good looks from her mother. Whatever she presents has  grace  and dignity. Both of them made a very good team. Since their guru is common, their style has uniformity and élan. They selected three items which suited them as they were in format of duets, The opening Ananda Natamidum paadam of Papanasan Sivam  in Kedargowla raga and Adi tala offered scope to  Nidhag to display his energy in Tandava of Lord Shiva. Nidhag has an athletic body. His movements were virile appropriate to dance of Shiva. As one witnessing Shiva's dance, Shweta expressed devotion.
The choreography was by Superna Venkatesh.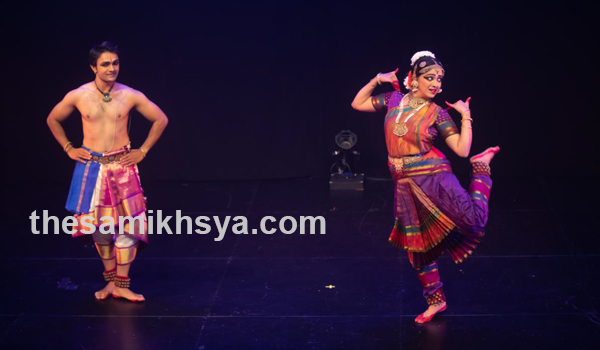 An interesting number was Padyam in which a conversation takes place between two  devotees. Shweta questions about who is great. For instance  she questions Is Earth great? And Nidhag replies: Shesha carries it on his head. In counter question female devotee asks: So Shesha is great? The male devotees replies: Kaal Kantta wears it on his wrist as a decoration. She questions: Is Kaal Kantta great? Rejoinder: Kailasa is his residence. Question: Is Kailasa great? The male devotee replies: Ravana had lifted on his back. Question: Is Ravana great? Male devotee: Ravana was thrown by Vaali, tying him with his tail. Female devotee: Is Vaali great? Answer: Vaali was killed by Lord Ram with single arrow. Question: Is arrow great? Reply: The arrow was shot by Lord Ram. The female devotee asks: Is Lord Ram great? The answer is : Lord Ramachandra is bhaktadhina, is being loved by devotees. Therefore devotee is greater than the Lord himself.
Suparna told me that this was taught to her by her Guru Jayalakshmi Alva. It was choreographed by Jayalakshmi Alva. An interesting text, performed making audience know what will be the answer.
The Varnam in Ragamalika and Adi  tala on Saptamatrika, choreographed by Suparna dwelt upon various mythological stories. Shweta enacted various forms of Matrikas, which as a devotee Nidhag watched with awae and wonder. Shweta displayed her mimetic power. The story of being born with three breasts to Pandya Raja, out of Yagna, being trained in warfare, she meets Sundereshwara, and falls I love with him. Her third breast falls. Their union is celebrated. Quite dramatic the Varnam was danced by both the dancers with understanding and confidence.
Both Shweta Venkatsh and Nidhag Karunad are bright stars of the young generation. One was delighted the Samarpana Dance Festival invited them and presented them showcasing the emerging young artists in Singapore.
The two young dancers Madhuri Suresh and Varsha Vishwanath from Temple of Fine Arts presented Shakti.  Their opening number was in praise of Ganapati with interesting iconographic images. The epithets of Siddhi Vinakayak, Mukti Bhakti Ganapati. The use of gam gam gam gam mnemonic syllables went well with the prayer. Both the dancers concentrated on compositions of Shanmukha, Lord Muruga in its various manifestations. Also how Shanmukha told the sacred Mantra Om in the ear of Lord Shiva. Their performance was replete with devotion. Both are well trained dancers.
Parshvanath Upadhye's ABHA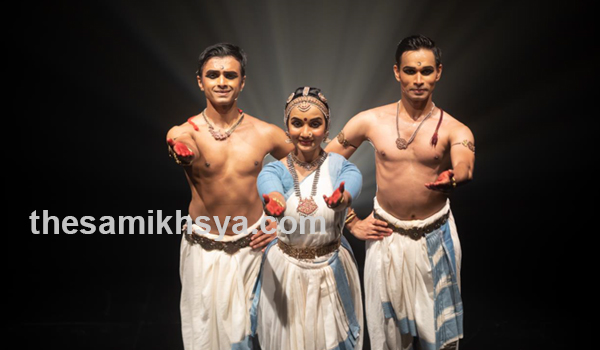 I first saw Parshvanath Upadhye in Hyderabad during the Nartanam Conclave few years ago. I was much impressed by his choreography, his wife Shruti Gopal and young dancer AdityaVP. Later on I saw his solo at The Music Academy Dance Festival at Chennai. There is always a buzz when arshvanath's performance is announced. It was the same this time in Singapore. Gayatri's curation of the festival deserves compliments.
Abha means effulgence. Shining beauty. Based upon Devdutta Patanaik's Sita, and set to Avadhi.Hindi lyrics by Himanshu Srivastav, few composed in Marathi and Kannada by Parshvanath Sanskrit by Rupashree Madhusudan, and to the lilting music by Rohit Bhat and vocal by Rohit and Chandan Bala, the teamwork was excellent. In nritta and abhinaya Parshvanath, Aditya PV and Shruti Gopal excelled. From the word go to the final sequence, the production held attention of audience. So amazing the choreography was that one wondered how did Parshavanath imagined it to present in a Margam format, which astounded many of us.
Using two puppets who talk in the beginning about the play as sad and nothing unusual, Devdutta has given a strong character of Sita,who is Goddess Lakshmi who takes incarnation of Sita for a purpose. We find it at almost at the end, when Ram having killed Ravana, attempts to kill Pushkar, cousin of Ravana, Sita asks him not to. She takes form of Durga and annihilates Puskar Ravana. So mighty and powerful she is. There are resonances of women empowerment, so subtly woven. Even when Sita is banished to forest after the gossip from people Sita having stayed in Ravana's palace, she tells Lakshmana, do not cry. She is daughter of Bhumi and also Lakshmi.No one can leave her, leave alone Ram!
The use of flashback by Parshvanath is imaginative. After Mallari, in Jatiswaram in raga  Pantvarali, the story is woven in a seamless manner. The expressions on face of Ram of discomfort about casting aspersions on Sita's character and helplessness, asking Lakshmana to send her away in a forest.
But earlier when Ram was to be crowned King, Manthara incites Kaikeyi.It was suggested in a few seconds, with such economy of gestures and expressions. Forest, golden deer, Lakshmana's drawing boundaries, Ravana's coming as mendicant, kidnapping Sita as a captive in Ashokvan, Hanuman appearing giving Sita Ram's ring and receiving Choodamani, asking Sita to ride over her shoulder and he would take her back to Panchavati et all were danced in quicksilver manner to the exquisite Varnam in Kapi raga and I am not a connoisseur of music, but was bowled over the way varanam was used for narration. It was most unusual.
The story of Ramayana is well known. But the way it is told by Parshvanath engages us in each event. After Luv and Kush have sung Ramayana before Ram and were disappointed he not having Sita with him, returned to forest back to mother Sita. The capturing Ashvamedh horse, Ram meeting Sita, seeing Luv and Kush and his own image in them, begging Sita to return with him, Sita entering Bhumi, Ram Saryu river and going to Vaikunth, Lakshmana, as Shesha preparing bed for Vishnu and Goddess Lakshmi, and then the next avatara as Krishna and with Gopis Krishna playing flute, the happy ending won over the audience who gave the dancers standing ovation.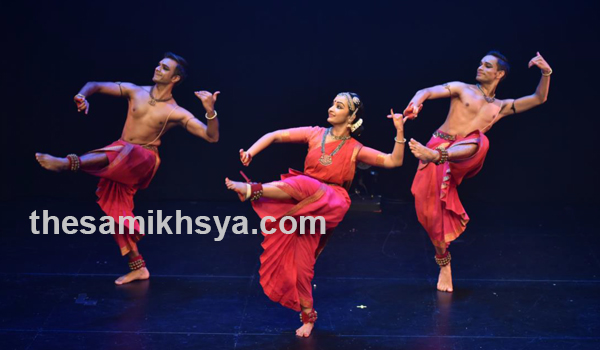 There are beautiful choreographic images of Goddess Lakshmi with elephant showering lotuses was on Lakshmi, also image of Gajalakshmi. As a matter of fact Parshvanath creates through his choreography indelible images, which are further enhanced by melodious singing of Awadhi/Hindi lyrics and also with Kannad, Sanskrit ,Marathi touches. Whenever as a reader you get an  opportunity to watch ABHA, make a bee line for it Not to be missed.
382 Views