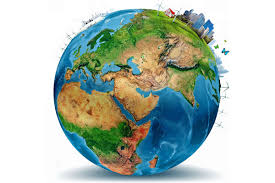 Last day of the one week Global Climate Strike concluded here on Friday evening with thousands of environment enthusiasts taking to the capital's streets to demand immediate action against climate change.
In the morning, about hundred people gathered at Central Secretariat to submit their proposals, petitions and memorandums to the Prime Minister Office (PMO). Aman Sharma, a 16-year-old student said, "An official from the PMO signed them and assured us that Prime Minister will get back to us."
The petitions filed requested the Centre to curb deforestation, water-scarcity and air pollution, integrate sustainable development principles in National Planning Agenda and formulate equitable laws for all generations.
Speaking to UNI, the Modern School student said he believes our Prime Minister understands the urgency of the matter and will definitely act on it. "People say that our PM listens to children and this movement is about every children of the country right now, " he added.
He also shared that during their last strike, Minister of Housing and Urban Affairs Mr Hardeep Singh Puri met the demonstrators, signed their petitions and said the ministry is in full support of them. "However, actions speak louder than words, " he said, adding that only concrete actions will help us achieve our desire of a sustainable future.
Also known as 'Earth Strike', the one week global strike began from September 20, just three days ahead of United Nations Climate Summit (UNCS), wherein students across the world walked out of schools collectively as a part of 'Fridays for Future' (FFF) asking the world leaders and policymakers to address the environment sensitive issue on an urgent basis.
Students from Rajkiya Sarvodaya Kanya/Bal Vidyalaya, SriRam, Ane Moriam schools and others were also seen sloganeering their way into the strike with the catchphrase of 'There is no Planet B' and 'We want climate justice. Now'.
The march which began from Jantar Mantar at 1500 hrs concluded peacefully outside Rajiv Gandhi Metro Station with people pledging to use public transport more, waste less resources and give up use of single-plastics. Throughout the procession, participants made sure that there was no littering around, no traffic congestion with no trampling on vegetation.
Another activist named Divyam from Niswarth organisation said of all the cities in India, Delhi seems to be the most neglected one. "Delhi is a city of migrants and maybe that's why the citizens here are not bothered to keep it clean or plastic free. However, if you go to Maharashtra you'll see that there both people and BMC (Brihanmumbai Municipal Corporation) work together to keep the state neat and clean."
Maharashtra banned single-use plastics, also known as as disposable plastics on June 23, 2018. Since then 310 civic inspectors have inspected 13 lakh establishments, seized 100 kg of plastic everyday, collected 76 tonnes of plastics and Rs 4.16 crore in fines, BMC's recent data revealed.
Meanwhile, a similar ban in the capital seems a distant dream as about 75 per cent of the garbage here is dumped in polythene bags that ultimately ends up at landfill sites in Okhla, Bhalswa and Ghazipur despite the existence of a blanket ban for almost seven years.
The Climate Strike Week' from Sep 20 to 27 saw several demonstrations, marches and activities in front of Ministry of Housing and Urban Affairs, Dwarka Expressway, Bhalswa Landfill, National Water Mission, Shastri Bhawan, Confederation of Indian Industry, Mother Dairy and PM Office.
However, the movement doesn't stop here. Several environment groups and schools allying with Global Strike for Climate Change will keep on organising weekly clean-up drives and marches across the capital.  (UNI)
15 Views