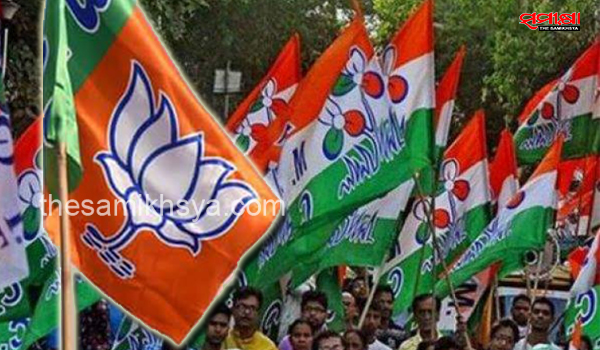 Samikhsya Bureau
Post what happened in Maharashtra and,  and then a minor set-back in West Bengal, is there a risk for the saffron getting the earth under its feet slither.
Critiques appearing in several platforms do indicate at a situation  where, Bharatiya Janata Party and its apologists, seem to have over-orchestrated certain political narratives.
The drama that was played up in Maharashtra saw the BJP in an avoidable over-reach on certain issues like the Hindutva and secularism, a divide which, in essence, has little to do with the larger mass ,either in Maharashtra or India.
How many in the country are interested  in such ideologies when the bread butter issues are  given a significant omission from the regular discourses.
When unemployment or malnourishment stares at us day and night, who is bothered  about the divorce of ideologies between Shiv Sena and Bharatiya Janata Party. Constant rants on such issues are not going to help anyone.
Who has time to shed tears over such ideological differences when the prices of onion and other commodities are enough to jerk tears. Be it Hindutva or secularism, the common man must have his share of the bread or medicine.
One cannot keep parroting issues such as Article 370, Tripple Talaq or NRC or CAB as the only issues to prevail upon other important things intricately linked to the common needs in life.
After Maharashtra, polls in Jharkhand and West Bengal are under the lens and all the political parties, mainly the BJP must bring in a modicum of restrain over its public discourses and language too.
Given the chemistry of voters in West Bengal, chief minister Mamata Banerjee, perhaps, chose to be defensive on Maharashtra politics and quietly opted out of the swearing in of Uddhav Thackrey even.
Having a good percentage of minority votes in WB, and win in the three bypolls,  she had reasons to be away from the political or ideological semantics in Maharashtra. So did the Delhi chief minister Arvind Kejriwal and many more leaders.
TMC victory in the polls should be a reason for the BJP think-tanks to worry about and go back to the drawing board. Mamata seems taking a lesson or two  from her past wrongs.
In Delhi, the blanket of smog has started to thin and Kejriwal has already unrolled a slew of populist planks and a few more must be there up his sleeves. So, it can be anybody's cake in the national capital and the fracas of Maharashtra is bound to have some bearing in the coming polls.
25 Views