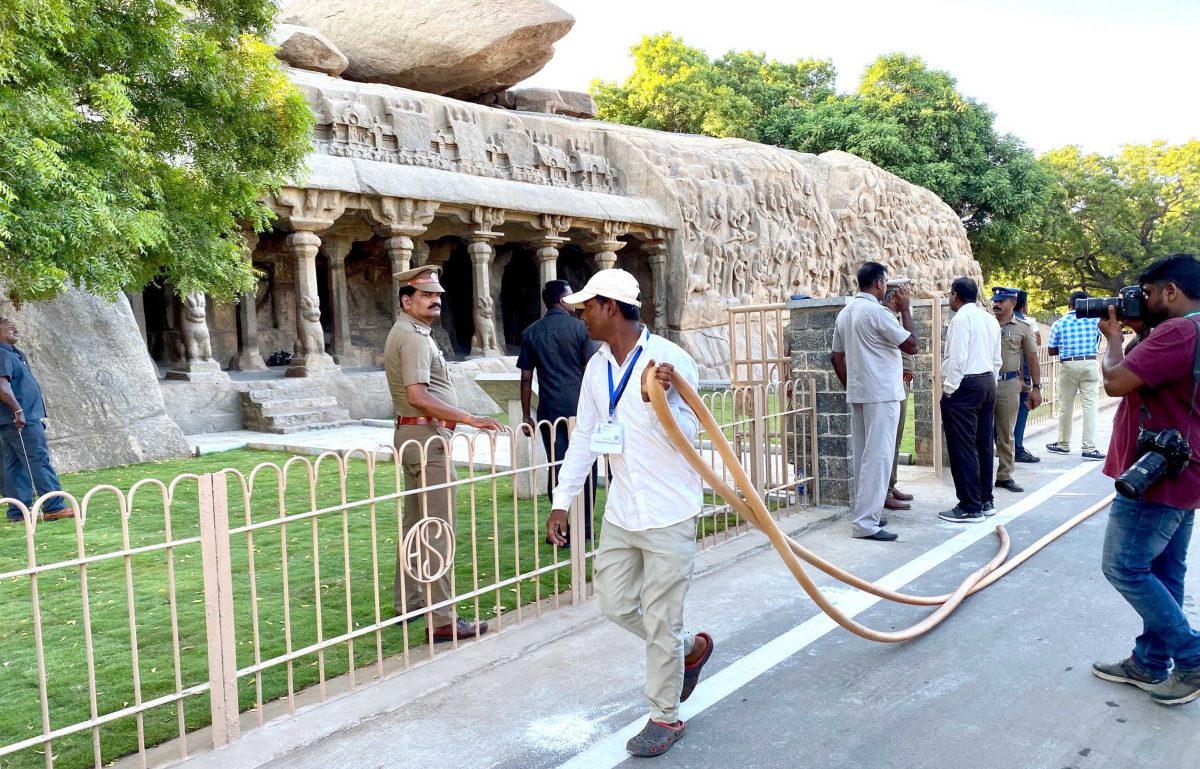 Mahabalipuram (Tamil Nadu), Oct 10 (UNI) The strategic friendship and a closer personal bond Prime Minister Narendra Modi and Chinese President Xi Jinping will try to achieve at their second Informal Summit here on Friday and Saturday is expected to open up a new chapter in Sino-India ties.
President Xi Jinping will be given a red-carpet welcome at the Anna International airport in Chennai near here on Friday afternoon. According to sources, folk artistes would also perform near Chennai Airport on Friday afternoon when Xi Jinping arrives.
More than 50,000 school and college students have been roped-in to welcome Jinping.Chief Minister Edappadi K Palaniswami has urged the people of Tamil Nadu to accord a grand welcome to President Jinping. "The talks to be held between Modi and Xi in Mahabalipuram will elevate the stature of Tamil Nadu in world level," he said in a statement.
Sources said on his way to Mahabalipuram from Chennai, the visiting dignitary will get glimpses of  several events at various points such as Karakattam and drums near Saidapet court. The unique Karakattam team from Madurai will also perform while a team of drum artistes will welcome the Chinese President in Kandanchavadi with Nadaswaram, Oyilattam and Karakattam in Thiruvadanthai.
Prime Minister Modi and Chinese President Xi Jinping will sit down in the 7th century Shore Temple complex overlooking the Bay of Bengal. Both leaders are expected to hold serious parleys on Indo Pacific, terrorism and possibly also take up concerns over a massive trade imbalance and the mega RCEP trade deal.
Lately, some irritants have surfaced between two countries on the issue of Kashmir – that India considers is strictly an internal matter of India. Mr Modi and President Xi will be meeting next in Bangkok on the sidelines of the East Asia and ASEAN summit from October 31- November 4. The Mahabalipuram-Chennai meet will be the third meet this year between Xi and Modi.
Besides the trade talks, the two leaders are expected to take a call for the next round of Special Representative-level talks aimed at boundary resolution. In trade, India is keen for higher market access for exporting products. China has been importing rice and sugar from India following a special request from Prime Minister Modi.
When Chinese President Xi shake hands with Mr upon landing in the city, history will repeat itself as it will mark a historic moment aimed at further strengthening and recalibrate the Sino-Indian relations that dates back to the fifth Century Pallava era. Interestingly, Mr Xi will be the third top Chinese leader to visit the World UNESCO Heritage site–the venue for the second informal summit–after a gap of 63 years.
Chinese Traveller Hiuen Tsang was the first to have visited this ancient coastal town during his long stay at Kancheepuram in the 7th century CE. In December 1956, the then Chinese Premier Zhou Enlai visited a village called Kulpanthandalam, a few kms from Mahabalipuram, where he also inaugurated a maternity and child welfare centre.
An unprecedented security cover has been thrown in and around Mamallapuram. On Friday, at around 1700 hrs, President Xi would be given a guided tour of three monuments, Arjuna's Penance, Five Rathas and the Shore Temple at the World UNESCO Heritage site, which has been given a major facelift. At 1800 hrs, Mr Xi Jinping will witness a cultural performance by the Kalakshetra team at the Shore Temple before attending a dinner hosted by Mr Modi.
80 Views