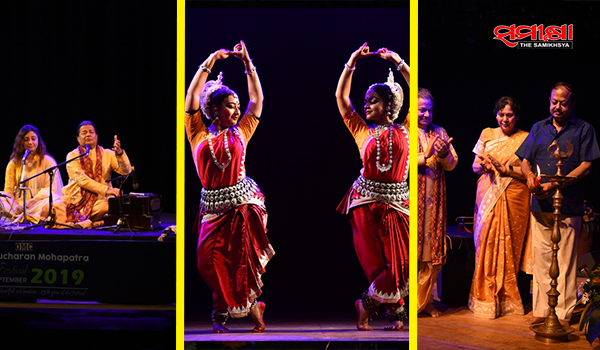 Samikhsya Bureau 
In keeping with Guru Kelucharan Mohapatra's glorious memory, Srjan, the pioneering Odissi institute founded by Guruji himself has been conducting the Guru Kelucharan Mohapatra Award Festival for  last 24 years. The inaugural day of the 25th Guru Kelucharan Mohapatra Award Festival was commenced on September 5, 2019 at Rabindra Mandap Bhubaneswar.
The inaugural evening of the festival began with the auspicious lighting of the lamp by eminent dignitaries, i Debi Prasad Mishra, former minister, Anup Jalota, popular singer and musician;  Praveena Kala, Chief General Manager of State Bank of India,  Pankaj Lochan Mohanty, Chairman, MGM Group and Shri Ratikant Mohapatra, Director, Srjan.
The highlight of the evening was  performances by celebrated Bhajan singer Anup Jalota, popularly known as the Bhajan Samrat. Shri Jalota, with his ever mellifluous  voice and captivating presence, commenced his recital with an invocation. He dedicated this evening of music to the legendary Odissi Guru Kelucharan Mohapatra and as a tribute to Guruji's immense contribution to the classical Arts, each rendition was based on a classical Raag. Among his notable songs were the celebrated Bhajan Aisi Lagi Lagan, set to Raag Kirvani and Jag Mein Sundar Hain Do Naam set to Raag Gurjari Todi. Bringing in a strong classical touch to his evening's repertoire, Shri Anup Jalota was ably accompanied by Sushree Koyel Tripathy on the Vocals, Shri Rashid Khan on the Violin, Shri Pradeep Ghosh on the Tabla, Shri Himanshu Tiwari on Guitar. His recital highlighted his melodious yet powerful voice, with an incredible range, leaving the audience enthralled.
The second presentation of the inaugural evening was a brilliant  Odissi dance presentation by Gunjan Dance Academy, Cuttack led by renowned Odissi exponent and disciple of Guru Kelucharan Mohapatra, Smt. Meera Das. Gunjan presented two dance pieces, Moods of Rhythm and Dashavatar. In Taala Roopa, or the Moods of Rhythm, Gunjan presented a pure dance, exploring styles and patterns of the Odissi Mardala and creating many moods out of these, and celebrating the idea of romance through rhythm. Conceptualized and choreographed by Smt. Meera Das, the music and rhythm composition for this presentation is by Shri Dhaneswar Swain. In the second presentation, Dashavatar, an immortal piece of choreography by  legendary maestro Guru Kelucharan Mohapatra, Smt. Meera Das adapted it to a group presentation while keeping the original composition intact. Dashavatar is an expressive dance depicting the ten avatars or incarnations of Lord Vishnu. Smt. Meera Das performed along with the group, and her group of dancers from Gunjan, trained under her able guidance depicted these ten incarnations with good footwork and commendable stage presence. This was an apt conclusion to the inaugural evening's performances.
Tags:
120 Views