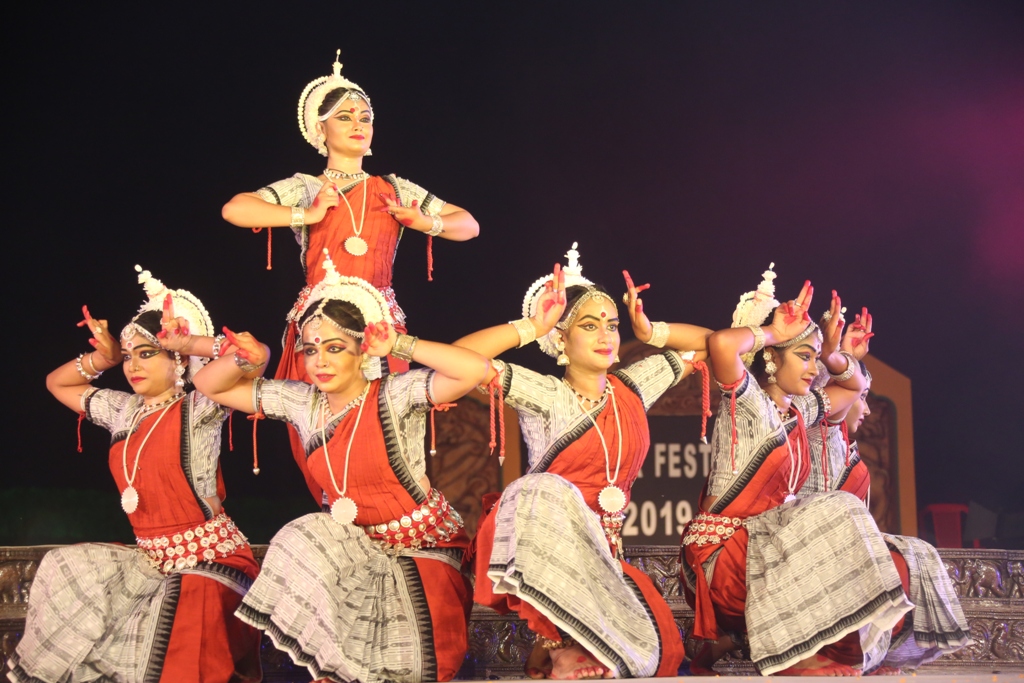 By Kedar Mishra
Spark of talent can spring out from which sky, one exactly can't predict, but certainly a powerful creative spark make an ordinary dancer, a star at one go. Such a star was the discovery of the day in the third evening of Konark dance festival, 2019. Until now Swapnarani Sihna was known to be a shy, lesser known student of Guru Durga Charan Ranbir, but today she came up as a shining star, representing the potent future of Odissi. On the stage of Konark she presented a couple of choreographies which carries fresh idea, stylistic brilliance and earthy typicality of Guru Debaprasad  Gharana.
The third evening of the Konark Festival was so full of dancing joy that one can simply be compelled to glue to his or her seat as audience. Odissi led by Angul based Odissi dancer Swapnarani Sinha and Mohinyattam led by Delhi based accomplished artiste Jayaprabha Menon were extraordinarily rich experiences. Both of them charmed the audience and learned lovers of classical dance with their superbly crafted choreographic works.
Swapnarani's group accompanied by a majestic orchestra led by none other than Guru Ramahari Das and Guru Dhaneswar Swain presented two freshly choreographed dance numbers; Agni Stuti (an invocation to the god of fire) and Triveni (a tale of the confluence of Ganga, Yamuna and Saraswati). In the invocation piece they described various aspects and forms of the fire. The fire as nurturer and destroyer, the divine energy who bestows life and consumes the body for salvation is the central energy of human existence. Using both graceful and vigorous movements Swapna presented the concept with precision and clarity. There was no unnecessary thumping or jumping, but very swift transitions like beautiful evening sky.
"Triveni "was a descriptive piece where three major rivers Ganga, Yamuna and unseen Saraswati were being portrayed with their socio-spiritual specialty and finally mixing with one another as one spiritual whole. It was a very neat and flawless composition, superbly executed by the well groomed students of Nrutya Nilaya. Swapnarani Sinha's stellar performance today may open a wide horizon for her in future. It will be a crime, if extra credit shall not be given to music composer Guru Ramahari Das. His conceptual clarity and musical virtuosity deserves super thumps up.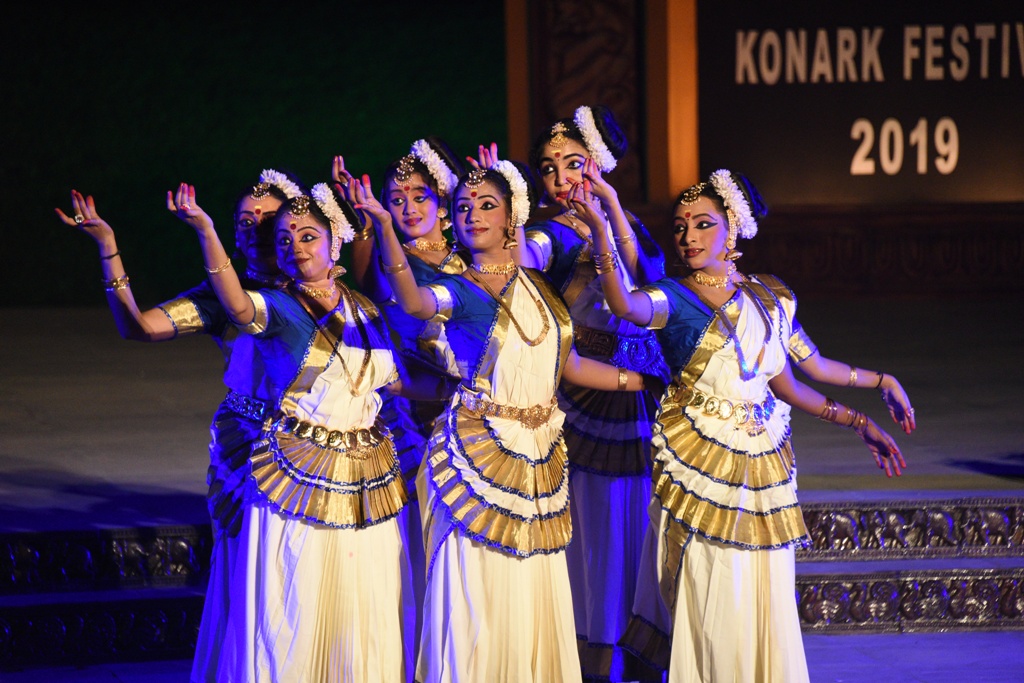 The concluding presentation in Mohinyattam led by Jayaprabha Menon was equally commanding. it was full of spiritual calmness. She began her production with an Ashtapadi of Shri Jayadeva in the traditional frame of Sopana sangeetam of Kerala. Her presentation carries expressional varieties and swinging ecstatic movements. In 'Naga Tattwam" she explored a multi dimensional meanings of the ancient Indian Naga or the Cobra concept. Dancing like a group of snakes with grace and gravity, but at the same time manifesting the inward journey of consciousness as Kundalini, the coiled snake inside the body. It's an abstract choreography, but with great clarity and cohesion. The concluding "Sapta Jiva" is a pure dance number based on the inward flowering of consciousness from Guhya dwara to Sahasrara. Here also the musical accompaniment was tremendously complimentary.
The third evening of the Konark festival was an absolute bliss. The festival was dedicated to audience by Yashodhara Roy Chowdhury, The Principal AG and renowned Bengali poet, Sachin  Ramachandra Yadav, the Director, Tourism.Odisha and Iti Samant, the editor of The Kadambini. The show was presented by Sadhna Srivastav and  Mrutyunjay Rath
Tags:
335 Views