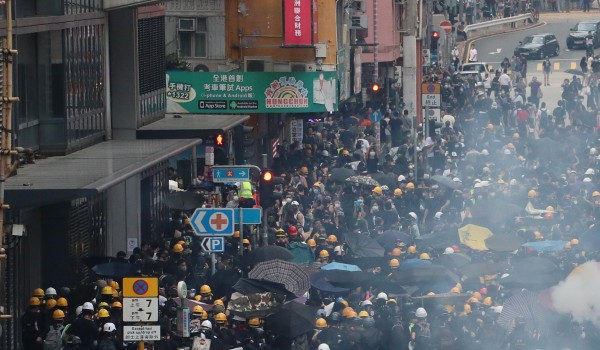 Tens of thousands of demonstrators took part in a peaceful rally along Hennessy Road in Hong Kong to oppose the central authorities on China's National Day, a holiday celebrating the 70th anniversary of the modern state, a Sputnik correspondent reported.
Meanwhile, a group of about 100 police officers in anti-riot gear decided to clear the area by spraying tear-gas on the Harcourt Road, which was occupied by a small group of protesters. When the police charged in, most of the protesters had already evacuated the area, leaving only a few reporters standing in the middle of the road.
The police instructed all the reporters to clear out of their way, then moved further and dispersed tear gas into the crowd, which also mostly consisted of journalists.
Fire trucks have been deployed to deal with fires set by radical protesters across the street from the Legislative Council building.
Over the past months, Hong Kong has faced waves of rallies against now-withdrawn amendments to its extradition law, which proposed extraditing fugitives to mainland China. Rallies continued even after the bill was scrapped, with protesters demanding an investigation into alleged police violence, denied by the law enforcement, and end of legal proceedings against demonstration participants. However, the recent protests have erupted against the 70 years rule of Communist party in the mainland China.
Earlier in the day, Chinese President Xi Jinping said that Beijing would stay committed to the "one country, two systems" principle in regard to Hong Kong, a vision presupposing respect for the special administrator.
12 Views