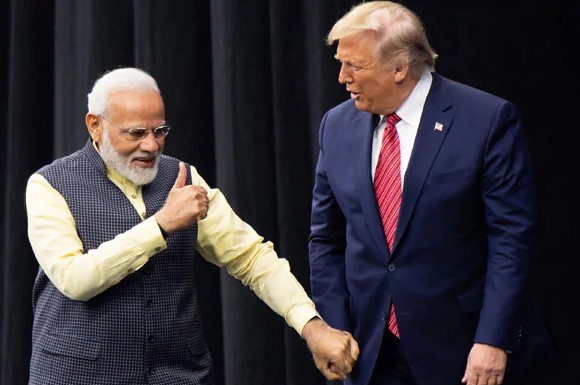 Houston, United States, Sep 22 (UNI) Taking forward their personal bond to a new height and opening a completely a new vista in Indo-US bilateral relationship, Prime Minister Narendra Modi and US President Donald Trump on Sunday shared stage holding each other hand in hand. President Trump arrived at the sprawling NRG Stadium in a total electrifying atmosphere shortly after Mr Modi as the leaders of world's largest democracy and world's most powerful democracy created history as it is for the first time US President shared the stage and addressed a public rally with a foreign leader.
Introducing Mr Trump, Prime Minister Modi said he admired the unique sense of leadership of the President and maintained "everytime I meet Mr Trump I find the same friendliness, warmth and energy in him". The Prime Minister said in 2014, President Trump has said that he will be true friend of India and he had kept his world. Mr Modi echoed his own poll slogan and said "Ab ki baar Trump sarkar", which can be in reference to next year's presidential elections in America.
"Mr President, you introduced me to your family in 2017, today I have the honour to introduce my family" , the Prime Minister said in reference to overwhelming presence of Indian Americans in the NRG stadium. Mr Modi said "Our two nations have taken the relationship to a new height and Mr President, this morning you can feel the heartbeats of this great partnership in this celebration of this two largest democracies." In his address, Mr Trump said "Both India and US understand that to keep our community safe, we must protect our borders: US President Donald Trump."
Mr Trump said both the countries will work against terrorism.
30 Views