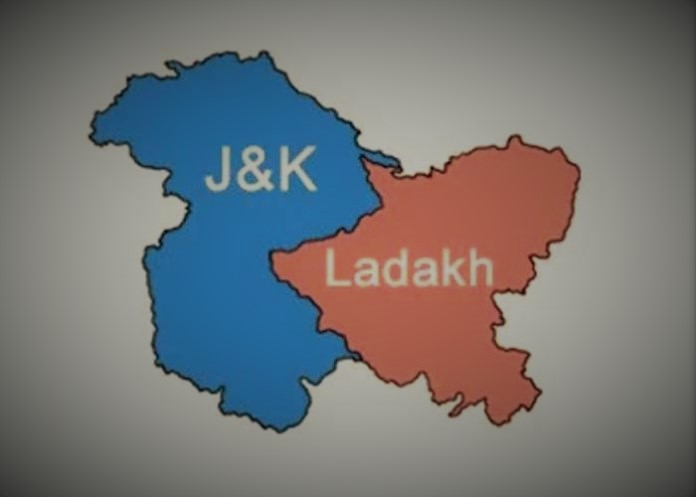 New Delhi, Oct. 30 (UNI) As the country is all set to get two new Union Territories — Jammu and Kashmir and Ladakh — on Thursday, the authorities are working overtime to set up administration in both the territories which will be under the effective watch of the Centre.
The process will be kick started with the swearing-in of the two new Lieutenant-Governors — G.C. Murmu in Srinagar and R K Mathur in Leh. The oath of office to the two former seasoned civil servants will be administered by the Chief Justice of Jammu and Kashmir High Court Justice Gita Mittal on Thursday.
In selecting Mr Murmu, an IAS officer of Gujarat cadre who was till now serving as Expenditure Secretary in Union Finance Ministry and Mr Mathur, former Defence Secretary as well as Chief Information Commissioner, the Modi government has relied on experienced civil servants who can set up the administrative chain in both the places.
While the situation in Ladakh is peaceful and people have celebrated the declaration of the cold hilly region as a separate Union Territory, the administration is still facing challenges in ensuring normal and peaceful life in Kashmir Valley where terrorists have struck a few times in the recent past. The latest being the killing of five labourers in South Kashmir on Wednesday who hailed from Murshidabad in West Bengal.
Jammu and Kashmir Governor Satyapal Malik who presided over the affairs of the State when the Modi government got the approval of Parliament to remove Article 370, giving special status to the State and divided it into two Union Territories — Jammu and Kashmir and Ladakh, has been transferred to Goa. While holding the reigns of power in Raj Bhawan in Srinagar, Mr Malik had a team of advisors and bureaucrats to assist him in the governance of the State.
Government sources said that with the new Union Territories coming into existence and removal of Article 370, all Central laws will now be applicable there and the civil service and police officers from AGMUT cadre will now be posted in the two new UTs. Sources said that roughly the model of administration can be compared to Puducherry for Jammu and Kashmir which will have an elected legislative assembly and Chandigarh for Ladakh which will be administered by Lt-Governor.
In his speech in Parliament while moving the resolution for scrapping Article 370 and bifurcation of Jammu and Kashmir on August 5, Union Home Minister Amit Shah countered the opposition attack and said it was wrong to say that Article 370 of the Constitution linked Jammu and Kashmir with India.
"Opposition leaders are saying that Article 370 brought Jammu and Kashmir to India. But the fact is that the Maharaja Hari Singh signed on October 27, 1947 (the Instrument of Accession) while Article 370 came into existence in 1949. So this is wrong to say that Article 370 brought Jammu and Kashmir with India," he had told the Rajya Sabha.
Sources said that the most daunting challenge is to put an effective chain of administration in place as there is a shortage of senior officials to head departments in Kashmir. Ladakh also faces the shortage of lower-rung officials to run the administration. Shifting of officers and employees will also be a difficult process, sources added.
The State Administrative Council (SAC), under Governor Malik's administration, had approved the creation of 495 posts of various categories for fully operationalising Ladakh. Reports said that over 470 more posts at different levels were also created to support the directorates and offices that would be set up in Ladakh.
Every department in the present set up of Jammu and Kashmir had been asked to submit personal and service details of their employees to the General Administration Department.
Former Defence Secretary Sanjay Mitra has been tasked to look after the division of assets and liabilities over a period of next six months as it would be for the first time that a State is being divided into two Union Territories. Nearly 18 years ago,  Chhattisgarh was carved out of Madhya Pradesh, Uttarakhand from Uttar Pradesh and Jharkhand from Bihar during the tenure of Prime Minister Atal Bihari Vajpayee who was heading the BJP-led NDA government at the Centre.
60 Views