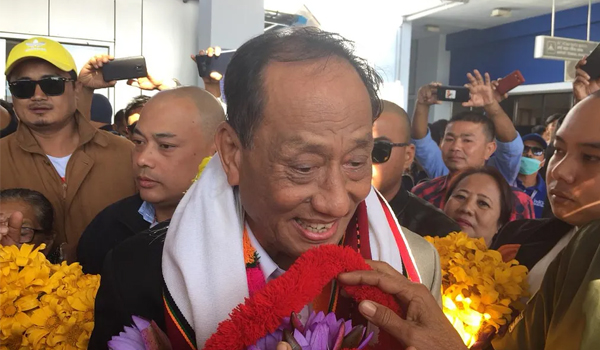 Imphal, Nov 28 (UNI) Rajkumar Meghen, popularly known as Sanayaima, Chairman of United National Liberation Front (UNLF) came back home today after spending 44 years in secrecy and prison.
Thousands of people thronged the Bir Tikendrajit international airport which is named after his great grandfather Prince Tikendrajit who was hanged to death on August 13,1891 by the British Empire for waging war against the Empire. He went in an open vehicle waving to people all the way from the airport to his residence.
He was released after spending ten years in a prison at Assam on November 9 last however he was taken away to an undisclosed place in New Delhi. Various civil societies of Manipur asked the reason for the detention of Sanayaima even though he was released. The flight details were not revealed and mass reception which was earlier organised was not done as advised by the authority.
Sanayaima had disappeared from the state in 1975 and spent the next 34 years hiding at various places. Bangladesh security personnel arrested him and handed him to India in 2010. He was then lodged at Guwahati central jail, Assam where he helped in establishing a library, music school, rock garden.
Sanayaima was heading the Manipur based UNLF which was fighting for restoration of Manipur's Independence. He was a vocal leader speaking at various international forums about the Manipur situation. Born on September 21,1944, to late RK Madhuryajit Singh and Laitonjam Ningol Hemabati Devi at Yaiskul, Imphal, Sanayaima started reportedly working for the organisation since 1967 and became the general secretary in 1984.
Indian intelligence officials had been searching for him and he was listed in the top wanted list of CBI. He rarely appeared in public and made a surprise appearance in the Working Group of Indigenous People's Population meeting at Geneva in 1995. After becoming chief of UNLF in 1998, he worked hard to form a joint front of all Manipur based militants and formed Manipur People's Liberation Front (MPLF) in 1999.
59 Views