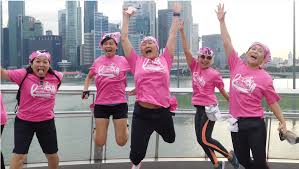 The 12th edition of Pink Ribbon Walk, organized by Ushalakshmi Breat Cancer Foundation & KIMS-Ushalakshmi Centre for Breast disease was held at KBR Park here on Sunday.
The aim of the Pink Ribbon Walk 2019 was to create awareness about importance of early detection of breast cancer, salute survivors in their fight against breast cancer, and equally, spread the message of hope, courage & survival in the fight against breast cancer.
A large number of people from all walks of life, Breast cancer 'conquerors' & their families in addition to a huge contingent of students from various schools and colleges in the city, army personnel, diplomats and whos who of the city participated, expressing solidarity with the Pink Ribbon Campaign.
Earlier, the hugely successful event was flagged off by   S K Joshi, Chief Secretary, Government of Telangana,  Anjani Kumar, Commissioner of Police, Hyderabad and   Noor Sandhu, a 30-year-old brave breast cancer survivor who is currently undergoing treatment.
Speaking on the occasion,  Joshi complimented Padma Shri Dr Raghu Ram, Founder, CEO Ushalakshmi Breast Cancer Foundation and the innovative initiatives championed by it that has helped transform breast cancer from a 'taboo' issue to a much commonly discussed one thus translating to ensuring early detection and saving many lives in the Telugu States. He urged women over 40 to get themselves an annual Screening Mammogram.
During this festive season, the Chief Secretary encouraged the men in the audience to gift a screening mammogram to their spouse/mother/grandmother and added that this gift could potentially save some lives through early detection.
Mr Anjani Kumar said "I commend Dr Raghu Ram and his team for championing one of largest breast cancer awareness campaigns in the country and contributing to saving many lives"
Dr Raghu Ram expressed his gratitude to his Team for standing "shoulder to shoulder' with him, and equally, expressed his happiness that Ushalakshmi Breast Cancer Foundation & KIMS- Ushalakshmi Centre for Breast Diseases has completed 12 positively eventful years serving the community.
He said "some 162,000 new cases of breast cancer are diagnosed every year in India. With 78,000 deaths per annum, a woman succumbs to breast cancer every ten minutes in India. Due to lack of awareness & absence of an organized pan India population based breast cancer screening programme, more than 70 per cent of breast cancers are diagnosed in advanced stages, with most succumbing within a couple of years of diagnosis".
The Foundation CEO added "to win the War on Breast cancer, women of all ages must report to their doctor if there are any new changes noticed in the breast. All women must get an annual screening mammogram from the age of 40 and emphasised the importance of early detection in saving lives.
Mr Jayesh Ranjan, Chief Advisor to Ushalalakshmi Breast Cancer Foundation highlighted the fact that the Foundation has always endeavoured to find innovative ways to empower people about importance of early detection in addition to implementing the Country's largest population based Breast Cancer Screening programme in Telangana. (UNI)
17 Views