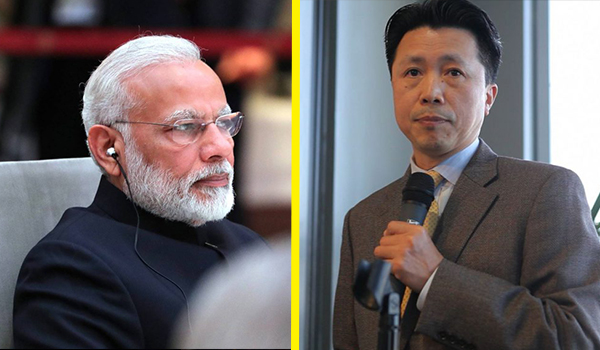 By Anuradha Dutta
The two-day-long International Conference on Perspectives on India-China
Developmental Dynamics provides an excellent opportunity to study achievements, political culture, leadership styles and evolution of the two countries ahead of Chinese President Xi Jingping's visit to India in October next, according to Consulate General of China in Kolkata Zha Liyou here on Friday.
Speaking to media persons on the sidelines of the conference here, Mr Liyou said, " This will be the second time that President Xi Jingping will be on an informal visit to meet Prime Minister Narendra Modi, which bears an ample testimony to the wonderful chemistry the two leaders have developed in the past few years. "
" This is a significant year as India celebrated its 73rd Independence Day and China will observe the 70 years of formation of People's Republic of China," he stated and added, " If China and India speak in one voice, people all over the world will listen…1.3 billion people plus 1.4 billion people will make a huge force and impact policies on global issues. "
Iterating that China and India are brothers, Mr Liyou said, " China feels the two countries must pay attention and make efforts to each other's issue so that millions of people on both sides of the Himalayas can read and understand each other. "
Asked if China's approach towards India's interests on global platforms would neutralise the efforts to build people to people relationships, Liyou said strengthening of inter-provincial relationships would lead the way to better understanding about each other's concern.
In this year of the 73rd anniversary of Indian Independence and the 70th anniversary of the founding of the People's Republic of China, Visva-Bharati and Consulate General of the People's Republic of China in Kolkata are jointly holding an International Conference on Perspectives on India-China Developmental Dynamicsin order to further people-to-people exchanges especially thinktank exchanges between the two countries and promote better mutual understanding and bilateral relations.
This conference is the first ever occasion when top scholars from China and India share insights and thoughts on how the two great countries are well governed by their great leaders.
Nearly 40 eminent Indian and Chinese professors like Manoranjan Mohanty, TCA Rangachari, Prof. Sreemati Chakraborty, Lan Jianxue, Sun Yixue, DG ICWA TCA Raghawan, Prof. B.R.Deepak, Prof Sabaree Mitra, Tarun Vijay, Li Anshan, Prof Sawaran Singh, etc are participating in the brainstorming sessions to discuss on the India–China Developmental Dynamics.
This International Conference is focusing on topics related to China-India relations such as Development Strategies of India and China, India-China Cultural and Economic linkages, Chinese perception of India and India's perception of China, Constructive competition on the basis of peaceful coexistence, India and China in contemporary era and Tagore's visit to China and the resurgence of India-China all-around cooperation.
(UNI)
57 Views