Disquiet, slowly yet steadily, grips a major part of the country and  more importantly, there is a smolder of panic world over as America has threatened to recreate Iraq or Vietnam in Iran.
India is on the boil, following an avoidable situation, prematurely thrust  upon the people who have been taken unaware over the conundrum created by the Citizenship furor like the Australian bush fire.
Come-what-may, politics must win!
Sane injunctions have failed to convince the Bharatiya Janata Party that, why it is so. Why the students have shown a spontaneity and are on the streets. They may or may not be wrong but, the BJP has always refused to give room for any interaction with the people.
Rather, the prime minister and the home minister often demonstrated their bellicosity through the recent campaign trails to say that, no amount of protest can bend the government from its stance to go ahead with CAA, NRC and NPR.
Amnesty offered to the non-Muslim people are unlikely to come for ones who are Muslim.
Why JNU singled out as common with all mischief !
What is significant that, the unison in the voice of students from all religions that, 'policy of in discrimination ' on the basis of religion has no place.
Pending what went inside the JNU, a punching bag for politicians for last five years or more, is just bizarre and a shame on our claim of being a civilised and a great democracy.
It requires no mention that, there is a persistent and diabolic design in place by these politicians to further fuel social turbulence through this not-now-so-urgently required CAA & NRC combo to generate a cynicism among the people.
It gets slowly clear that, whatever unfolded itself in the JNU, was a handiwork of politics to sow the seeds of anarchy to come tomorrow. Or, it has already at the threshold when the people in power must give a thought to jettison ego and be back to the tracks of governance.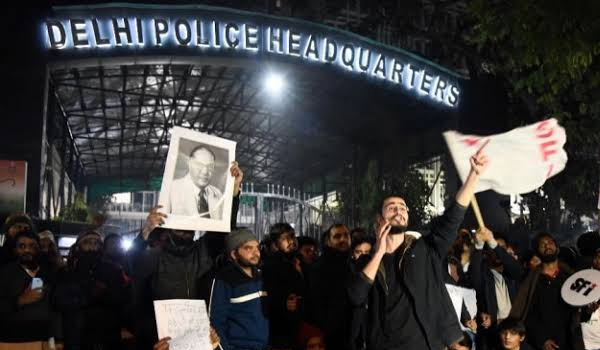 No sign of cultural entrepreneurship anywhere !   
It seems, slowly many institutions of learning are going to be in this fire of unrest. At least, till the Delhi polls are over.
At that time, the union home minister or even the prime minister, who appears to be like a pillion rider at his juncture, go on fomenting the fear through scary allusions for the coming polls in Delhi.
It is by all account a disastrous recipe for politics to flourish itself and whatever is left, the social media has compensated the rest through provocative posts.
275 Views