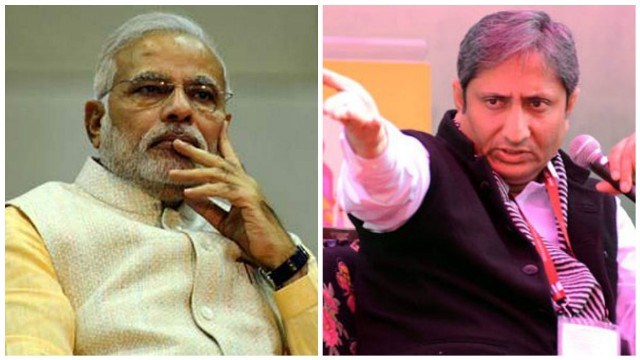 Samikhsya Bureau
Right from the time the Prime Minister Narendra Modi had assumed power, whether in 2014 or now in 2019, he had always demonstrated the magnanimity to encourage all kinds of achievers from India regardless of the fields or events, which brought laurels for the country. The PM has even at many occasions rose above political considerations to congratulate individuals from any spectrum as the guardian of the country.
Modi had in several occasions played the catalyst role to bolster the moral of journalists for their achievements. Even he has been taking to the twitter handle to wish even sports personalities for a win in a match or tournament.
But, what has really bothered the fraternity of journalists across board that, he has reportedly not sent a word of appreciation for the popular TV anchor Ravish Kumar for getting the rare honor of being conferred with the Ramon Magsaysay award which is considered to be one of the most prestigious awards in the sub-continent.
It was expected that the PM, who remains above all political considerations and known for his unbiased appreciation of anything positive, could have congratulated Ravish Kumar for the feat.
From Congress leader Rahul Gandhi to BSP Chief Mayawati, from Delhi Chief Minister Arvind Kejriwal to former Jammu and Kashmir Chief Minister Mehbooba Mufti, opposition leaders on Friday made an exceptional line-up in congratulating senior journalist Ravish Kumar on winning this year's Ramon Magsaysay award.
Ravish Kumar is among the five individuals from different parts of Asia on Friday named for the prestigious award. However, nobody from ruling BJP has acknowledged the honour, which is considered as Asia's Nobel Prize.
Ravish, a senior editor with NDTV Hindi channel, also known as a critic of the policies of BJP-led NDA government at the Centre.  Taking to Twitter,  Gandhi described the senior journalist as a 'brave exception in Indian journalism' and many will follow him to fight against the 'onslaught on India and its institutions'.
"Congratulations to Ravish Kumar for being a brave exception in Indian journalism. I know many more like him are waiting to stand up and fight this onslaught on India and it's institutions", he tweeted.
On Facebook,  Gandhi wrote in Hindi, how "Ravish Kumar has consistently held the mirror to those in power showing them the real image, without fear. That he has won the Ramon Magsaysay award is a matter of pride for journalism. Congratulations!".
Kejriwal, also a recipient of the prestigious honour in 2016, welcomed the senior journalist to 'club of Magsaysay awardees' and said his brave journalism will get more strength in these 'difficult times'.
"Delighted to hear the great news of Ravish Kumar being announced 2019 Ramon Magsaysay award. I welcome Ravish to the club of Magsaysay awardees and hope to see his brave journalism go from strength to strength in these difficult times. Many congratulations my friend,"  Kejriwal tweeted.
Congress general secretary Priyanka Gandhi Vadra, who is also a known critic of current dispensation, said that  Ravish is a journalist who has the courage to tell the truth. "Congratulations to Ravish Kumar, a journalist who has the courage to criticise without discrimination, has won the 2019 Ramon Magsaysay Award. I respect his patience," she tweeted in Hindi.
Congratulating  Ravish,  Mayawati said that the award should inspire journalists to act as the fourth pillar of democracy and serve the nation and constitution."I hope the media will be inspired to act as fourth pillar of democracy, and serve the nation and constitution fearlessly", the BSP chief tweeted in Hindi.
Punjab Chief Minister Capt Amarinder Singh also took to twitter to congratulate Mr Ravish and said he is an inspiration."Ravish keep up your good work. You are an inspiration", Singh tweeted.
Trinamool Congress leader Derek O'Brien called Ravish Kumar a 'champion' "Ravish Kumar, you champion. You deserve the Magsaysay Award and more. May your courage and conviction inspire your colleagues to never become 'tamed journalists'.
Taking to twitter, RJD leader Tejashwi Yadav said, Congratulations to Ravish Kumar for well deserving Magsaysay Award. May your undaunted courage, wisdom and persuasion inspire others!".
(With UNI inputs)
718 Views