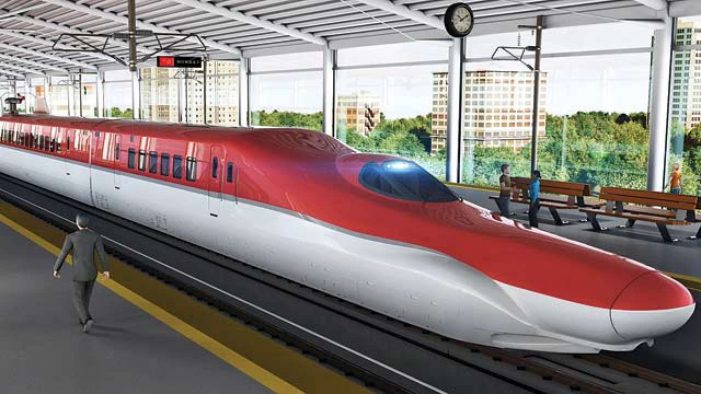 Ahmedabad, Sep 12 (UNI) Civil work of the Mumbai-Ahmedabad High  Speed Rail project is likely to  start from next March-April, Managing Director of the National High Speed Rail Corporation Ltd (NHSRCL) Achal Khare said here on Thursday.   The total estimated cost of the Japan assisted project currently is Rs 1.08 lakh crores and any cost escalation (if any) could be known only after completion of the allotment of contracts. So far, tenders of works worth around Rs 50,000 crore have been floated.
Addressing a press conference here, Mr Khare said there would be 12 stations on the 508 km long route of which eight would be in Gujarat and four in Maharashtra. With the maximum speed of 320 kmph, the total travel time would be two hours and seven minutes.  As many 24 high speed trains would ply 35 times from each side every day in the beginning after completion of the project by December 2023.
The one side fair between Ahmedabad and Mumbai has been planned at Rs 3,000. For smaller distances, it would cost  7 a km per person. There could be discount for regular travelers. He was against the dynamic fair system like the ones in Rajdhani trains.He said the utility shifting work for the project was on in full-swing. Half of the around 1600 electric utilities including the high voltage ones, over 400 of the total 1000 signaling cables and hundreds of trees, 3 of the ONGC oil-wells have been shifted so far.
To a query he said that a good progress has also been made with regards to land acquisition but the old Jantri rate (the rate of lands fixed by the state government) has not been revised since 2011 and it was a major problem in acquisition of land. 'People were not against the project as such but they were not happy with the old Jantri based land rates as the base for the compensation for their land. On our advise the state government increased the rates by 53% on the basis of capital gain index and it helped to a great extent but still in some areas like Navsari where the Jantri rates were the lowest, people were reluctant to give lands at these rates,' he said.
"The two third of the project, (popularly known as Bullet Train) is in eight districts of Gujarat and remaining in 2 districts Palghar and Thane of Maharashtra. But the speed of the project was quicker in Gujarat where of the total around 5,400 private plots needed for it, 2600 have already be acquired. Of the 198 villages in Gujarat, now the problem was only in around 15 villages and we hope that by December this year up to 85 per cent of the acquisition will be completed. So far no compulsory acquisition has been done and all the land acquired was through mutual consent. In Ahmedabad 60 per cent and in Vadodara 70 per cent of the acquisition has been completed. There were around 50 cases also pending in Gujarat High court with regard to the land acquisition etc.," he said.
A total of 1,380 hectare of land was required for the project of which 622 hectare has been acquired so far. An estimated Rs 17,000 crore was to be given as compensation to the displaced and others. In Gujarat, so far around Rs 1,800 crore have been disbursed as compensation for acquisition of 360 hectare of land. The project during construction stage would provide employment to around 25,000 people and after completion give 3,500 permanent jobs in operation and maintenance work with an additional 4 to 5 times of this figure as indirect employment opportunities.
The NHSRCL MD said a total of 60 to 70 thousand trees of 30 cm or more in girth would be affected due to the project and it has been planned to save at least 20 to 25 thousand of these through re-location.  In Ahmedabad of around 4000 such trees, 400 have already been relocated.  To a query he said that planning has been done to minimise the effect of the project on the normal operation of the rail services between Ahmedabad and Mumbai. "Only 26 km of the railway area coincides with our project. Of it 8 km area was in Vadodara and 18 km in Ahmedabad".
Tags:
65 Views