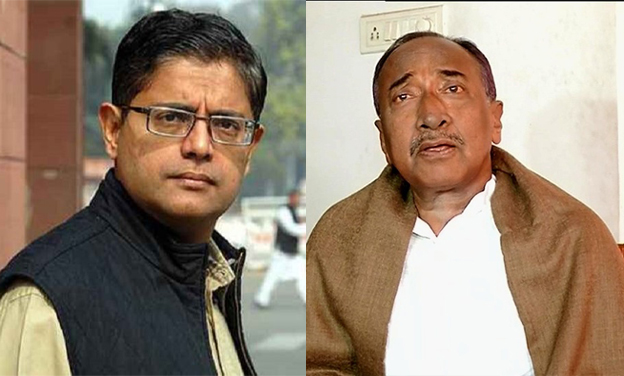 Samikhsya Bureau  
One can never believe that two parallel lines can ever meet. However, political exigencies have often play the leveler role when two sides or individuals feel compelled to come to a point of unison to remain afloat in mainstream politics.
Speculations are rife that former BJD MP Baijayant Panda and the sulking BJP leader and Bijay Moahapatra have arrived at a point of togetherness to harness like-minded leaders for creating an outfit that can play the role of a game-changer in 2019, inflicting wounds on their common enemy, Naveen Patnaik.
Although, it is still premature and an arithmetic is yet to be framed but the crucial factor seems to be frustration of both the above leaders for getting together  for mutual good.
Both have already felt the terror of isolation in politics and who knows that better . Mohapatra, after a wilderness of years  and sharing the bed of thorns with the BJP, must be foreseeing a buccaneering future. It is a juncture when anything to lay his hands on can be a life-buoy.
His rumoured comeback to the BJD now seems falling flat with no sign from Naveen Niwas and his years of abandonment in the saffron camp was a remedy worse than the disease.
The flamboyant political face Baijayant Panda is in no better situation either given the fact that, his fact-sheet of allegations against Naveen only remained confined within twitter handles perhaps.
His possible entry into the BJP has already hit the rock-bottom of despair after Modi catapulted an ex bureaucrat Aparajita Sarangi to refurbish the image of the BJP state unit. His latest observations on Modi were clear signs of someone's disillusionment .
So, may be, he reportedly volunteered to play the unifier role by cajoling leaders like Mohapatra into the new concept of realignment.
Politically it looks good but politics of the day does not go ahead without two major things. Money and  the following among the masses. Mohapatra is hard-pressed by both the handicaps and Panda, who was till recently piggybacking on Naveen, can not claim to have the required mass support.
What is the common problem with both of them is an imperceptible blend of air or arrogance which may deter their efforts at overwhelming the larger mass with any shred of hope. Both should have done it much earlier rather than suffocating themselves in the contagion of neglect. This too should not lose the steam like earlier experiments by others like Damodar Rout and others.
762 Views