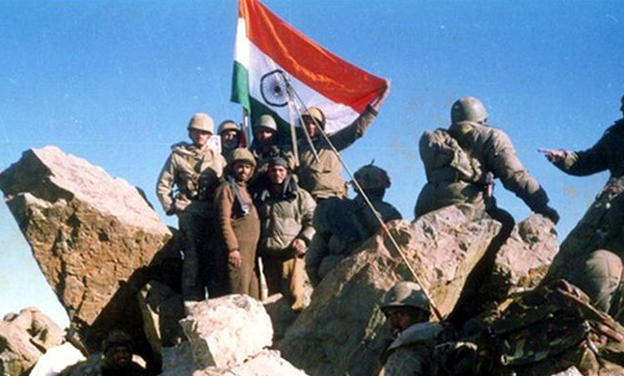 The year 2019 marks the 20th anniversary of the successful culmination of Operation Vijay, wherein brave soldiers of the Indian Army overcame seemingly insurmountable odds, hostile terrain, weather and an enemy occupying dominating heights, to win the Kargil war.
On this momentous occasion, the Indian Army celebrated it's victory in the memory of its brave martyrs with events covering a myriad spectrum, an official Spokesperson said here on Friday afternoon.
He said as part of Kargil Vijay Diwas Celebrations, a White Water Rafting Expedition is being undertaken by the PARASHU BRIGADE, from Nyoma to Nimu (210 km).
A 27-member team, led by Capt Hrishikesh Ghogare, was flagged by Major General Arvind Kapoor, Chief of Staff, Fire and Fury Corps.
The team will traverse from an altitude varying from 13700 feet to 10300 feet, crossing a number of grade four rapids, enduring inclement weather and sub-zero temperatures of Indus River.
He said the team has undertaken this expedition of 210 km, with an aim of setting up a national record. The officials of the India Book of Records are in Leh, to validate the record at the end of the expedition.
During 1999, majority heights in Drass and Kargil were occupied by Pakistani intruders, when Indian troops had withdrawn during winter, as per agreement with the neighbouring country. It later took several months to evict or eliminate the intruders from Indian position, near the Line of Control (LoC).
Tags:
161 Views