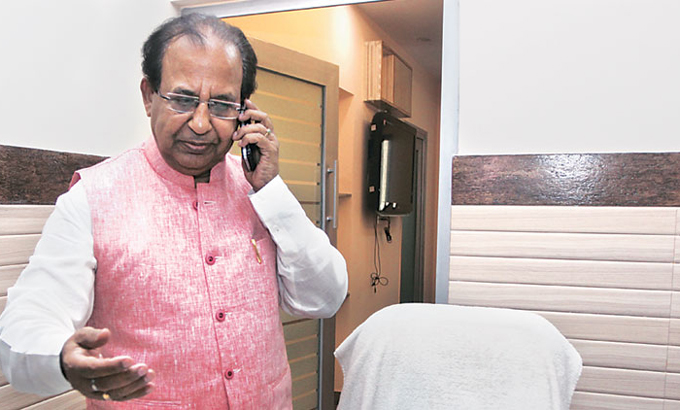 Assam Governor Prof. Jagdish Mukhi today affirmed that the state government was determined to safeguard the pride and prestige of the people of the state, and has been undertaking several initiatives to ensure it.
"My government is deeply committed to uphold the pride and prestige of the people of Assam. With these visions in mind, the government has taken up several initiatives during last two years eight months to make Assam free from corruption, illegal migrants, terrorism and pollution as well as to strengthen the bond of brotherhood among the people of the state," he said, in his address on the first day of the Budget session of the state legislative assembly here.
Prof. Mukhi said the state government is guided by the principal of 'Sabka Saath, Sabka Vikas' and has been working to achieve inclusive growth of all sections.
Referring to the Assam Accord, he said the ongoing updating of the National Register of Citizens (NRC) will prove to be a powerful safeguard to make Assam free from illegal foreigners.
The border fencing along Bangladesh is also progressing rapidly and once the border is sealed, fresh illegal migration to the country will stop, he added.
Claiming success in curtailing terrorism in the state, the Governor said 13 extremist outfits have entered into Suspension of Operations (SoO) agreements with the Centre, while several other outfits have expressed willingness to come to the negotiations table.
He hoped that the outfits which are still engaged in the hardcore way will also come forward for talks.
Mentioning of the laurels brought to the state, Prof. Mukhi said the Bharat Ratna for late Dr Bhupen Hazarika has made the people of the state proud once again of the myriad accomplishments of the musical genius.
He also appreciated the success of sprinter Hima Das at the world arena, film-maker Rima Das for her film getting selected as India's official entry for the Oscar and Jadav Payeng for winning international recognition for his social work.
The Governor dwelt on the various developmental activities and schemes of the government and assured of working towards accelerated growth of the state.
290 Views