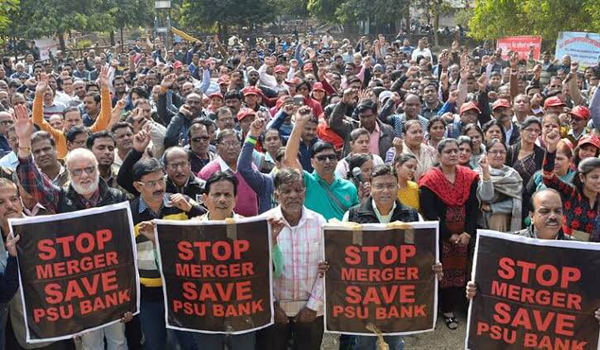 Aurangabad, (Maharashtra) Nov 29 Bankers will hold a massive protest at Jantar Mantar, New Delhi, on December 10 against the merger and privatisation of public sector banks in the country.
Joint secretary of the All India Bank Employees Association (AIBEA) Com Devidas Tuljapurkar said here on Friday that the Bank associations, including AIBEA, All India Bank Officers Confederation (AIBOC), All India Bank Officers Association, Bank Employees Federation of India, Indian National Bank Officers Congress (INBOC) and Indian National Bank Officers Federation (INBOF) will participate in the demonstrations.
The government is planning to privatise the banking sector by merging banks and it will indirectly benefit the big loan defaulters and industrialists, he said. He further said even today, more than two lakh villages are not in a position to get services due to the unavailability of bank branches. Instead of opening more branches, the government is going ahead to merge the banks.
Recently, the minister of state for finance Anurag Thakur had stated that banks waived loans of Rs 6.27 lakh crore in the five years.
A total share of farming sector was only 7.59 per cent and remaining was of the business sector, shows how the government supports the business sector, he added.
15 Views