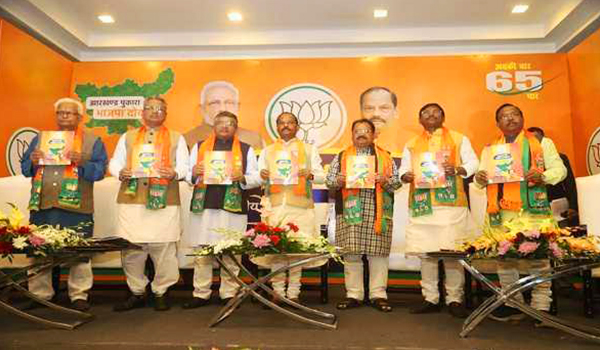 Ranchi, Nov 27 (UNI) The BJP today launched its manifesto for the Assembly polls in Jharkhand in which it has promised to implement the NRC in the state.
"In huge numbers Bangladeshis and those from other areas have entered into the state, many districts of eastern region are badly hit by it…therefore the BJP government will implement NRC in the state," the party said in its manifesto here.
The manifesto was released jointly in a function by Union Law Minister Ravishankar Prasad, Chief Minister Raghubar Das, Union Tribal Affairs Minister Arjun Munda, State BJP president Laxman Giluwa, in-charge for assembly polls Om Mathur and co-incharge Ramvichar Netam.
Following are some of the other key promises made by the party in its Sankalp Patra:
One person from every BPL family will be linked with jobs or self employment.
The Mukhyamantri Krishi Aashirwad Yojana will be expanded and more farmers will be provided financial assistance of Rs 5,000 for their economic empowerment.
Agricultural loans worth Rs 3 lakh to be provided on marginal rates
To solve the problem of drought and water in the state the BJP government will establish State Water Grid. This grid will be based on proper storage and distribution of water through various sources.
Construction of 70 New Eklavya schools to be completed by the year 2022 and number of 'paharia' schools will be doubled. National tribal university to be set and completed in five years.
On the occasion of 150th birth anniversary of Bhagwan Birsa Munda which is on November 15, 2024 the party will be organising a series of programmes which will be focused on his role in the nation building while every year Birsa Week will be organised between June 30 to November 15.
All vacant posts in the government jobs to be filled soon. Girls in the state to get free of cost education from KG to PG level. 33 percent reservation for women in certain government services.
Government has ordered to conduct of survey of the OBCs and once the report comes within six months as per the constitutional norms they would be provided reservation in government jobs and educational institutions.
To link the last corners of the state 8 lane Jharkhand Mala State Highway to be constructed so that all districts get linked to one another.
Construction of Patratu Power Plant to be completed on time so that Jharkhand becomes sufficient in power production and also supplies to other states.
Literacy rate in Jharkhand to be taken to 90 per cent by the year 2022.
Will review the functioning of all the NGOs working in the tribal dominated areas and make sure they do not disturb the culture, social harmony and security of the state.
Expansion of forest cover to 34 per cent. Making Jharkhand free from single use plastic by the year 2022.
20 Views