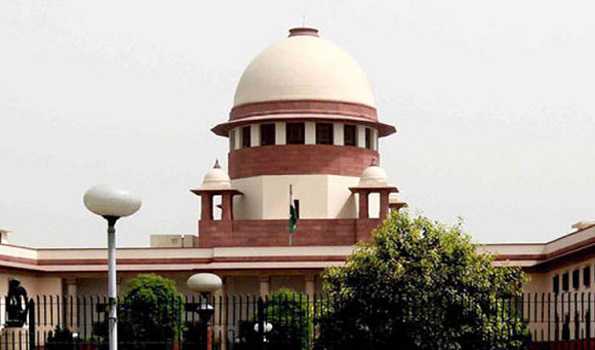 New Delhi, Nov 25 Expressing hope that the Supreme Court will immediately order for a floor test tomorrow and avoid all chances of 'horse-trading' in Maharashtra, the Congress on Monday said that the Devendra Fadnavis government will fall the moment their strength is tested in the House.
"We reiterated that democracy has been murdered in Maharashtra and the Constitution has been trampled upon. We have given the affidavit of 154 MLAs supporting us and their number will go up when MLAs are freed from BJP's jail. BJP will get a befitting reply after the floor test," said AICC communication in-charge Randeep Singh Surjewala, along with former Maharashtra Chief Minister Prithviraj Chavan and AICC general secretary Mukul Wasnik.
The Congress leaders were talking to media moments after the apex court reserved its order on a petition filed by Congress, NCP and the Shiv Sena against Maharashtra Governor Bhagat Singh Koshyari's decision to invite Mr Fadnavis to form the government along with NCP's Ajit Pawar.
Reiterating its demand for an immediate floor test, the leaders said, "Supreme Court heard both the sides today. We reiterated that democracy has been murdered in Maharashtra, people's mandate crushed and Constitution undermined. An illegitimate government has been formed".
"We appealed for a floor test urgently to prove the majority. We have a full majority. We believe that people's mandate will win in Maharashtra so also democracy," Mr Surjewala added.
Terming the Fadnavis government as illegitimate, Mr Chavan said that he has 154 MLA's affidavit with him, who have pledged support to alliance government under Uddhav Thackeray.
"Some NCP MLAs have signed at two places, with Ajit Pawar without their consent and with us with consent. There's no alternative except a floor test to verify the truth. We want a test in 24 hours as was done in Karnataka and Uttarakhand," said Mr Chavan.
Questioning BJP's demands for 14 days to prove the majority in the house, the former Chief Minister asked, "will the Supreme Court permit horse-trading?" and added that "we request Supreme Court for an urgent floor test. SC's own constitution bench has said that the majority can only be tested in the House".
Earlier in the day the apex court reserved the order on the issues related to the government formation in Maharashtra till 1030 hrs on Tuesday.
18 Views