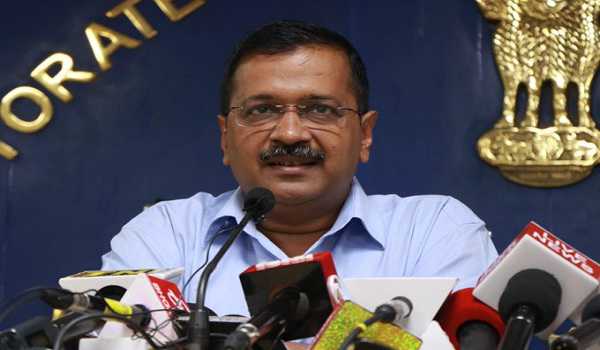 Appealing to the people of the national capital to celebrate a cracker-free and pollution-free Diwali this year, Chief Minister Arvind Kejriwal on Monday announced that the Delhi government will organise mega Diwali laser show here at Connaught Place from October 26-29 and said that no entry passes will be required for it.
Addressing the mediapersons, Mr Kejriwal said, "My best wishes to all of you for the festival of Diwali. On this auspicious occasion, the Delhi government will celebrate a grand Diwali festival in Connaught Place. I heartily invite all the people of Delhi to come and celebrate a pollution-free and cracker-free Diwali with us. The Delhi government has scheduled a four-day grand laser show from October 26-29, every evening from 1800 hrs to 2200 hrs."
Joined by Deputy Chief Minister Manish Sisodia, Mr Kejriwal said, "No entry passes are required for the laser show. "
"The whole of Connaught Place will be decorated with laser lights. The laser shows will happen after every one hour, with various art and cultural programs alongside the laser show. There will be food courts and markets where people can come and enjoy with their families," Mr Kejriwal said.
He said he feels elated to be announcing the laser show event.
The Chief Minister said, "The people of Delhi are like family to me and this laser show aims at celebrating Diwali together like a family."
He also said if the Diwali laser-show is successful this year, then the government will organise the event at various locations and on a larger scale next year.
"The show will be inaugurated on October 26 by Lieutenant Governor," he said.
"There are no restrictions levied on the traders and businessmen. Instead, the trade will be doubled because people will be visiting Connaught Place in large numbers. Restrictions have been levied only on private cars because they can cause congestion on the roads," he said.
On the issue of restrictions levied on private transportation, Mr Sisodia said, "We have arranged for special parking facilities on the nearby locations such as Shivaji Stadium, etc. Electric vehicles will also be deployed to transit people from one location to another. The Delhi government has made all the necessary arrangements in this regard."
Addressing the media, Mr Sisodia appealed to the people of Delhi to celebrate the first of its kind community Diwali in the country.
"We all have been witnessing reports of high pollution levels since the last 10-15 years during the Diwali festival. And so to avoid this unpleasant situation, we want to celebrate a cracker-free and pollution-free Diwali this year. I want to appeal to the people of Delhi to be a part of the community laser Diwali this year," he added.
Tags:
56 Views