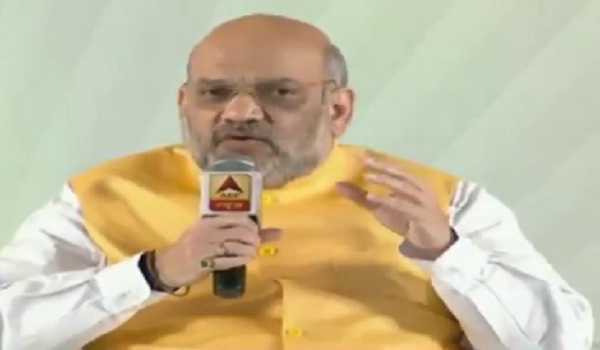 New Delhi/Ranchi:-(UNI) Union Home Minister Amit Shah on Wednesday said that  both parties should abide by the Supreme Court  judgement of Ram Mandir and said that it is not a question of who likes what, everyone should abide by the law. Speaking at a media event in Ranchi, he further said that SC's verdict on Ram Mandir would have come earlier, if the Congress had not made a request to hear the case, because of General Elections.
Talking about today's Supreme Court proceedings on Ram Mandir issue, which has given a date by which the hearing in the case needs to conclude, Mr Shah said the Supreme Court is independent and this judgement would have come much earlier, had Congress leader Kapil Sibal not opposed it. "Further proceedings would take place according to the directions of the Supreme Court. The court decides and both the parties have to abide by," Mr Shah said, while answering a question.
Standing by the bold decision of the government in Jammu and  Kashmir, the Home Minister  said, "It is our belief from the beginning that Article 370 was temporary and we were prepared for many years that we would remove it." He also clarified that there is no curfew in J&K and only eight  police stations out of 196 are under Section 144 restrictions. He also noted that internet and mobiles were introduced in the state  17 years, after coming into existence.
"This must not be linked with human rights as certain decisions have to be taken to ensure security of the people and maintenance of law and order. We cannot afford to lose lives of innocent citizens because of cross border terrorism being indicated by Pakistan," Mr Shah further said. Replying to a question on  Human Rights  during the Congress rule, in which  over 41000 lives were lost in J&K, what about their human rights? Who is responsible for the widows and orphans in JK, he asked.
Answering a question on Pakistan, which is  continuously being belligerent and its leaders making provoking statements that may lead to war, the Home Minister said there was no question of a war on Kashmir issue as this was an internal matter of India and Pakistan has no locus standi in this issue. "All  Kashmiris are our people and Parliament has only rightfully used the rights under the Constitution, by abrogating Article 370.
"Pakistan has always tried to destabilise Kashmir and tried to project India as a villain on global platforms. But it is evident to all that the whole global community is standing like a rock with India on Kashmir issue. Modi goverment has achieved a diplomatic victory in this issue and the world has now recognised that Pakistan is the perpetrator of cross border terrorism in India," he said.
Talking about the government's strategy for development in J&K,  Mr Shah said that almost 106 laws passed by Parliament, which were not applicable to the state  because of Article 370, have now become applicable to the state. "Jammu, Kashmir and Ladakh would now come to the mainstream and integrate with the Indian economy in true sense. The Government of India is committed to this and we will take this forward in a planned manner," he said. On the issue of NC leader  Farooq Abdullah being in house arrest, he  made it clear that there was  no plan to hold him under house arrest, for two  years.
Tags:
27 Views