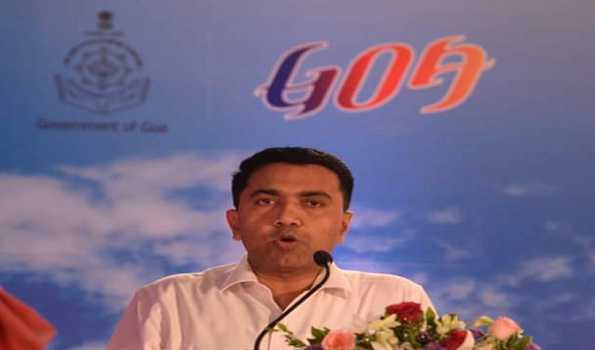 By Atanu Roy
Kolkata, Oct 27(UNI) Good bilateral and inter-state relationship help boost a tourist-friendly destination on a global perspective, Goa Chief Minister Pramod Sawant has said. 'My government is resolved to guarantee the wellbeing and invulnerability of all tourists,' Mr Sawant told UNI in an exclusive chat at Taleigao, Goa, earlier this week.
This correspondent caught up with him on the sidelines of the Goa International Travel Mart (GITM). 'Goa is now focused on the wellbeing of visitors from their arrival to departure. The endeavour would help foster Goa's tourist-friendliness around the world,' the chief minister hoped. 'Half the number of inhabitants in Goa are currently exclusively reliant on tourism after the conclusion of mining tasks in the state,' he pointed out, hinting at the importance of tourism in the state known for its golden beaches and verdant greenery.
Mr Sawant also launched a promotional film on his sea-facing state from the GITM inaugural dais. 'This is just the beginning. We want to organize this auspicious travel mart every year. We also are increasing the value of business by concentrating on medical and hinterland tourism recently. It is unfortunate that many people felt cheated earlier in Goa when they came here for treatment, so this is the need of the hour to redesign medical tourism here,' he concluded.
Deputy Chief Minister and Tourism Minister Manohar Azgaonkar stated, 'This occasion will open various windows and bring enormous advantages for exhibitors and the buyers.' Over 100 international and more than 150 domestic buyers and media persons from over the world participated in the uber B2B occasion at the Dr Shyama Prasad Mukherjee Stadium at Taleigao.
Tags:
23 Views