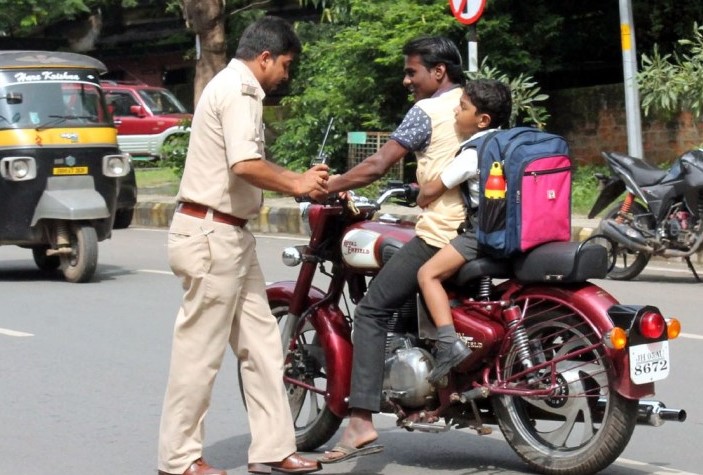 New Delhi, Sep 18(UNI) With the hiked fees for traffic violations under the Motor Vehicles Act  continuing to evoke opposition from vehicle owners across the country, the Gujarat government on Wednesday decided to defer till October 15 implementation of traffic violation fines related to helmet and pollution-under-control (PUC) certificates. "We have learnt that people are suffering as enough helmets are not available in the market. Thus, the state government has decided to extend the deadline till October 15 for the implementation of new fine for this violation," Gujarat Transport Minister R C Faldu told reporters in Gandhinagar after the Cabinet meet.
About a fortnight since the new Motor Vehicle Act became effective, several states are either proposing to slash the penalty rates under the new act or not implement the Act with the Mamata Banerjee government in West Bengal calling ot 'harsh'. Congress-ruled Madhya Pradesh and Rajasthan have asked the Centre for a review of its decision to impose higher penalties for violation of traffic norms. Maharashtra Transport Minister Diwakar Raote had written to Union Road Transport and Highways Minister Nitin Gadkari stating that the fines are "way beyond the limits" of common people.
The Congress government in Punjab had recently said it will put on hold the implementation of the amended Motor Vehicle Act in the state and continue with the old rates. In Maharashtra also, the ruling BJP may go by the public sentiment as Assembly polls are due shortly in the state. Having a look at road accidents in India, there has been close to 150,000 road traffic fatalities in 2017. A quick review of data suggests the trends have continued in 2018 and 2019. India accounted for only 2 per cent of the world's motor vehicles but accounted for over 12 per cent of its traffic-related fatalities.
Typically, 150,000 fatalities mean three times as many serious injuries from road traffic incidents. Unfortunately, the majority of people involved in road traffic incidents are young people in productive age groups. 72 per cent of victims are between 18 to 60 years of age. Estimates suggest the incidents cost the country 3 per cent of its GDP.
Tags:
62 Views