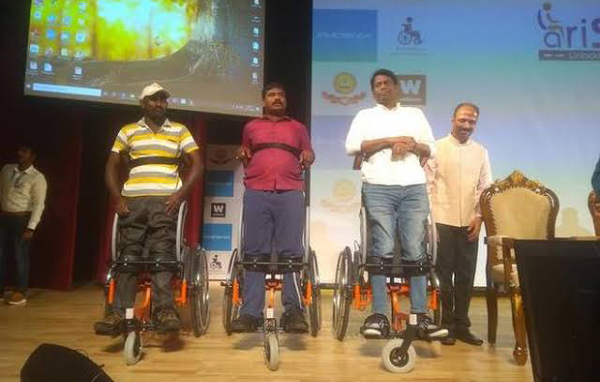 Chennai, Nov 5 (UNI) In a big boost to the differently-abled people, India's first indigenously-designed 'Standing Wheelchair' developed by the Indian Institute of Technology-Madras (IIT-M) was launched today. Called 'Arise', the Standing Wheel Chair, developed in collaboration with Phoenix Medical Systems, was launched by Union Minister for Social Justice and Empowerment Thaawarchand Gehlot.
The Standing Wheelchair enables a differently-abled person requiring a wheelchair to shift from sitting to standing position, and vice versa, independently and in a controlled manner.
'Arise' was designed and developed by the TTK Center for Rehabilitation Research and Device Development (R2D2) at IIT-M, headed by Prof Sujatha Srinivasan in the Department of Mechanical Engineering.
Since 2015, with CSR support from TTK Prestige, R2D2 has been involved in research related to human movement, influence of orthotic and prosthetic devices on human movement and the design and development of mechanisms, products and assistive devices for people with impairments.
The commercialization of the Standing Wheelchair technology was made possible through support from Wellcome, UK, through an 'Affordable Healthcare in India' Award, which brought together the research and manufacturing partners. Thanks to a novel mass-manufacturable mechanical design (one Indian patent granted, other Indian, US and China patents pending), and Phoenix's manufacturing capabilities, Arise will be made available at affordable prices.
12 Views