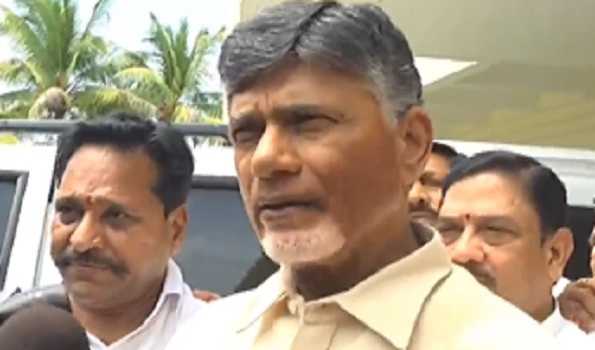 Telugu Desam Party (TDP) National President and former Chief Minister N Chandrababu Naidu embarked on a dawn-to-dusk fast at his residence in protest against his house arrest by the police to foil the "Chalo Atmakuru" programme.
Large number of police personnel headed by Guntur Urban Superintendent of Police Rama Krishna were deployed at the river front residence of Mr Naidu, located at Tadepalli near on Wednesday.
Police cordoned off  Naidu's residence and prevented TDP leaders going into his house. TDP leaders said that  Naidu would proceed to Atmakuru at any cost today. TDP leaders and activists assembled at his residence.
TDP leaders told media that in protest against the house arrest and police detained TDP leaders at various places, Mr Naidu went on a fast. At a teleconference with the TDP leaders this morning, Mr Naidu described the police action as "undemocratic, arbitrary, and muzzling" of the voice of opposition party.
Large number of policemen were seen at the relief camp, in which the victims of ruling YSRCP, are staying at Arandalpet in Guntur. The police did not allow TDP leaders to go inside the camp. The TDP leaders alleged that the police prevented them taking breakfast to the victims in the relief camp.
Police took some TDP leaders into preventive custody and some leaders were detained at their houses. MLA K Atchennaidu and Nannapaneni Rajakumari were arrested and taken to Mangaligiri police station when they were going to meet Mr Chandrababu Naidu.
Heated arguments took place between former Minister Bhuma Akhila Priya and the police in a star hotel here this morning. The police did not allow her to leave her room. Several TDP leaders including former Ministers Devineni Umamaheshwara Rao, P Pulla Rao, Nakka Ananda Babu and other leaders were detained at various places.
Meanwhile, tense situation prevailed at Atmakuru village in Palnadu region where a demonstration and public meeting were to be held today. Huge Contingent of police force were deployed in the village.
It may be mentioned here that the opposition TDP gave "Chalo Atmakuru" call in protest against the alleged attacks on the TDP activists by the ruling YSRCP workers.
The ruling YSRCP also gave the same call leading to tense situation in the region. The police did not allow the YSRCP leaders to take out 'Chalo Atmakuru' programme either. (UNI)
20 Views