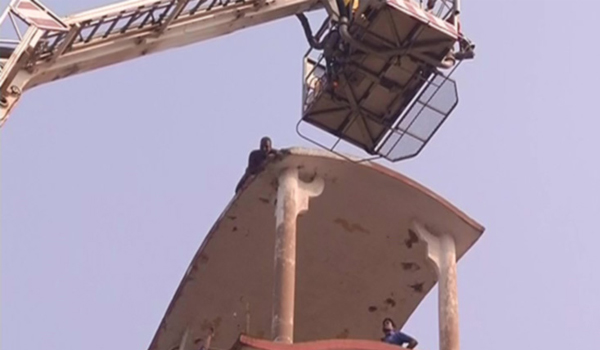 Bhubaneswar, Nov 22 : After a lengthy operation, a man who climbed atop the Parija Library on the premises of Utkal University here threatening to commit suicide was rescued by the fire services personnel on Friday. The youth identified as Subodh Barik from Praharajpur village in Kendrapara district was rescued after a four-hour long operation.
Barik, who went missing one month ago, climbed the 70-feet high dome of Parija Library. "We rescued the man after a four-hour long operation. It was very difficult for us to convince him. The operation was very challenging as the dome is very sloppy and dangerous. However, the man was rescued unhurt," said Chief Fire Officer Sukant Sethi.
While one sky lift was engaged to divert his attention, another was used to rescue him. Besides, a psychiatrist was present on the sky lift for counselling. Ramesh Chandra Majhi, Deputy Fire Officer of Bhubaneswar Circle, said the man was working with the postal department and was mentally unstable after he was removed from the service due to some reason.
"My son was mentally retarded and was under treatment. We hadn't seen him for over a month as he had left home. A missing complaint was also lodged in this connection. We are relieved to have found him back," said Krushna Barik, father of Subodh Barik.
26 Views