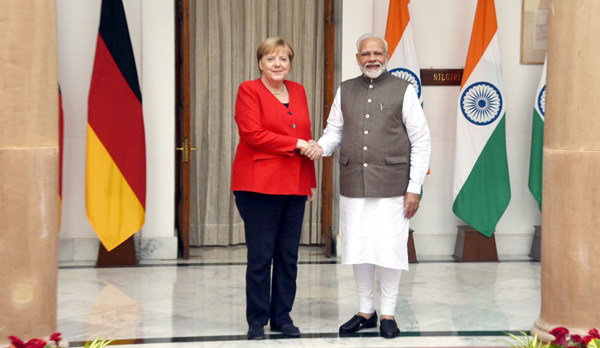 Prime Minister Narendra Modi on Friday urged Germany to invest in defence production sector in India and take the benefits of Defence Corridors in Uttar Pradesh and Tamil Nadu. "I invite Germany to take the benefits of Defence Corridors in Uttar Pradesh and Tamil Nadu and invest in defence production,"  Modi said.
Making a joint press statement after bilateral talks with visiting German Chancellor Angela Merkel, Prime Minister Modi said both the countries can focus on enhancing cooperation in the areas of new and advanced technology, artificial intelligence, skills, education and cyber security
Modi said both the countries give high value to democracy and rule of law and thus the two countries always share common views on issues facing the world. "In this regard, our bilateral talks will continue further. To fight terror menace and radicalism, we will have enhanced cooperation in these areas at bilateral and multilateral levels,"  Modi said. In her remarks, German Chancellor   Merkel said, "We intend to work very closely on sustainable development and climate protection."
About 20,000 Indian nationals are studying in Germany, she said and maintained that Germany would like to see even more. "When it comes to vocational training, we want to have exchange of teachers too". "We want to bring people (of both countries) together,"  Merkel said, adding that she had interaction with some women leaders in India and said in ecology sector there can be further cooperation between two sides.
There is also scope for enhanced cooperation in cultural fields and in agriculture, the German Chancellor said. "Our contribution in agriculture sector can be valuable to India," she said.
(UNI)
9 Views