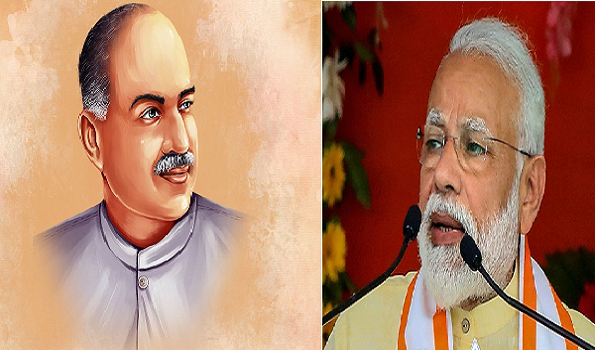 Prime Minister Narendra Modi and other BJP leaders on Sunday paid homage to Syama Prasad Mookerjee, the founder of Bharatiya Jana Sangh — the predecessor of the saffron party.
"Remembering Dr Syama Prasad Mookerjee on his Balidan Divas. A devout patriot and proud nationalist, Dr Mookerjee devoted his life for India's unity and integrity," Mr Modi tweeted.
Prime Minister also wrote that the Late Mookerjee's "passion for a strong and united India continues to inspire us and gives us strength to serve 130 crore Indians".
Union Home Minister and BJP chief Amit Shah also paid tributes to the Late Mookerjee.
Both Mr Shah and party's newly appointed Working President J P Nadda paid floral tributes to "great patriot" Bharatiya Jana Sangh founder at the party headquarters here.
In his Twitter missive, Mr Shah recalled Syama Prasad Mookerjee's contribution in ensuring One Nation, One Constitution norms in Jammu and Kashmir.
"If today we have a permit-less system in Jammu and Kashmir, it is because of Syama Prasad Mookerjee," he tweeted in Hindi.
In his missive in the micro blogging site, Defence Minister Rajnath Singh, also a former BJP chief, wrote: "My humble tributes to the Jana Sangha founder, Dr. Syama Prasad Mukherjee on his punyatithi. His immense contribution to our country will always be remembered."
Earlier in the day, Mr Nadda paid floral tributes to the legendary leader at Shahidi Park, near Firozshah Kotla Stadium here.
"I pay tributes to Bharatiya Jana Sangh founder, educationist and a great patriot. His contribution for country's unity and integrity is unique," Mr Nadda tweeted in Hindi.
In another missive, he wrote: "Late Mookerjee believed firmly in the concept of one nation, one constitution. Post independence, his sacrifice had started first movement for ensuring integrity and unity of the country".
Born on July 6, 1901, the Late Mookerjee breathed his last on June 23, 1953.
Speaking at the BJP headquarters, Mr Nadda said the Late Mookerjee's contribution vis-a-vis integrity of Jammu and Kashmir is 'relevant' even today.
"His death happened in a mysterious circumstance," Mr Nadda said recalling how the Late leader had differed with country's first Prime Minister Pt Jawaharlal Nehru on his Kashmir policy.
"Late Mookerjee regarded Nehru-Liaqat Ali pact as an appeasement policy," Mr Nadda said.
The Liaquat–Nehru Pact (or the Delhi Pact) was a bilateral treaty between India and Pakistan signed on April 8, 1950.
Under the agreement, refugees were allowed to return to dispose of their property, abducted women and looted property were to be returned, forced conversions were unrecognized, and minority rights were confirmed.
Tags:
73 Views