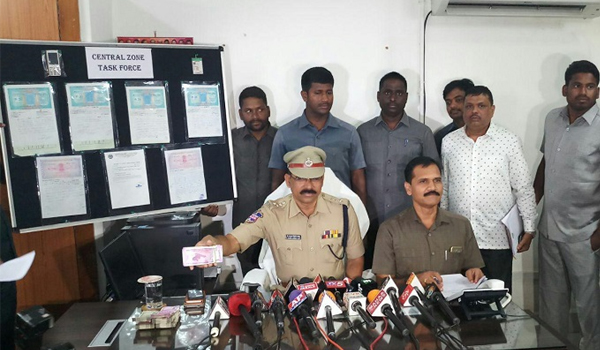 Four people, including a TV actor, have been arrested by the city police for allegedly cheating the citizens to the tune of over Rs one crore by wooing them under various pretexts, police said today.
The accused — Bhimraj Mallik Arjun Malji alias Chetan Manjid, alias Ketan, alias Sonu Singh (31), Pravin Sukhsagar Varma alias Kamal, alias Lallu (29, both acted as agents and who convinced the customers), TV actor Mallesh Shrimant Dingi alias Mallu (47, who acted in Crime Petrol as a police officer) and Chavdappa Narsingh Kalor (38, who supplied SIM cards) — were arrested on Monday.
While Mallesh and Chavdappa are the residents of Bhiwandi, Pravin is from Mumbra and Bhimraj from Govandi of Mumbai, police said.
Police further said that on July 13 this year, a leather merchant from Mumbai registered a complaint with the Shil Daighar police station in Mumbra town of the district against the accused, alleging that they had duped him of cash of Rs 2 lakh by promising to supply him leather at a reasonable price. The police had then registered an offence under sections 420 read with 34 of Indian Penal Code against the unidentified accused persons.
The accused also targeted the common people by giving them fake gold coins and other such items purportedly collected from famous Shirdi and Siddhi Vinayak temple at a cheaper price. They provided the victims with bogus currency and fake gold.
During interrogation, it was revealed that the arrested accused and their other accomplices, who are at large, had cheated many persons in and around Thane and offences under sections 170, 420, 406 and 34 of IPC had been registered with the Turbhe MIDC and Kharghar police stations against them. A preliminary estimate revealed that the arrested accused had thus cheated the victims to the tune of around Rs 1 crore.
Police have so far recovered total 10 mobile phones, 253 SIM cards of different states, Rs 28,000 in cash, a big stock of fake currency and fake gold biscuits from the arrested accused.
As the accused kept changing their mobiles, SIM cards and their names, police really had a tough challenge in cracking the case.The Shil Daighar police are carrying out further probe into the crime, sources added. (UNI)
214 Views