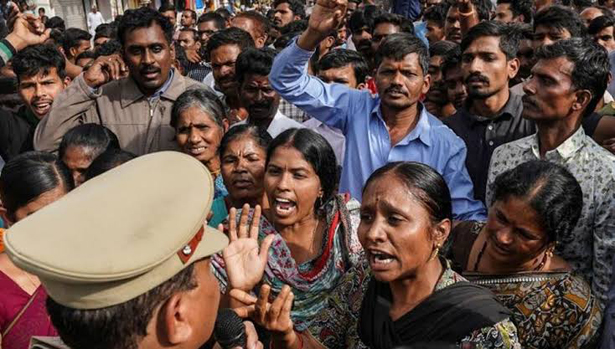 Hyderabad, Dec 1 Protests erupted in different parts of Telangana and across country demanding severest punishment to the four accused in the rape and murder of young veterinary doctor near Hyderabad on Thursday.
Since morning the residents of the colony where Dr Reddy's residence is located staged protests locking up the main gates of the colony barring media and police personnel.
The protesters vociferously demanded the intervention of Prime Minister Narender Modi and Chief Minister K Chandrasekhar Rao to secure quicker justice in the heinous crime.
Congress MP Revanth Reddy, who came to the colony located in Shamshabad to console the parents of Dr Priyanaka was not allowed by police to enter the gated community.
Student and people's organisations conducted protest rallies in different parts of the state demanding punishment to the four accused, who had been remanded to judicial custody by an executive magistrate on Saturday.
Reports said protests were held in different parts of the country including Mumbai and Aurangabad demanding severe and rapid punishment to the accused.
Taking to social media, Congress general secretary Priyanaka Gandhi has said that she deeply disturbed over the rape and murder of the young veterinarian in Hyderabad and the teen aged girl in Sambhal in UP. She said, "As a society we have to do far more than just speak up when such incidents take place".
Popular Telugu film star Maheshbabu expressed shock over the barbaric rape and murder of the veterinarian. In a tweet he said stricter laws should be enacted to check such crimes.
16 Views