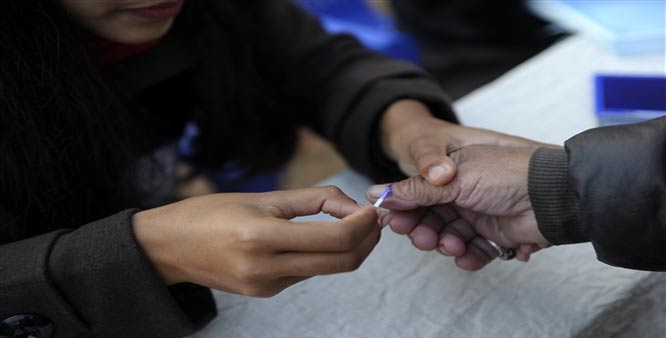 Amid tight security cover in all the booths, Uttar Pradesh will go to polls for eight seats, in the first phase of Lok Sabha elections on Thursday.
The eight seats are Ghaziabad, Gautam Buddh Nagar, Bagpat, Saharanpur, Meerut, Muzaffarnagar, Bijnor and Kairana.
The fate of Union ministers Dr Mahesh Sharma (Gautam Buddha Nagar), General (Retd) V K Singh (Ghaziabad), former Mumbai police commissioner Satpal Singh (Baghpat), former Prime Minister Choudhury Charan Singh, Rashtriya Lok Dal (RLD) chief, Ajit Singh (Muzaffarnagar) and Jayant Choudhury (Baghpat) will be decided, who are among the 96 candidates in the contest.
The other prominent candidates in this phase are Congress candidate Irman Masood from Saharanpur, Congress candidate Nasimuddin Siddique from Bijnore and BSP candidate Haji Yakoob Quereshi from Meerut.
State police has deployed over one lakh security personnel in ten communal sensitive districts.
Flag marches are being conducted in the constituencies by the central forces to instill confidence among the voters.
Liquor shops have been closed till the end of the polling in these constituencies while inter state borders with Delhi, Haryana and Uttarakhand have been sealed off.
All the booths will be covered with armed security forces, particularly the central forces. The state police has rushed 157 companies of central forces and 35 companies of PAC to the districts going to polls in the first phase.
State Director General (DG) Law and order Anand Kumar, said here on Wednesday that of the total 6,717 polling centres in the first phase, 1,564 are sensitive besides 730 are vulnerable, where the election security plan would concentrate.
"The entire eight Lok Sabha constituencies going to polls in the first phase have been divided into 130 zones and 1,308 sectors and the security personnel have been deployed accordingly," he said.
Along with the CPMF and PAC, the state police has deployed 532 Sub-Inspectors, 5111 head constables, 29,670 constables, 39,088 homeguard and 5,408 Chowkidars for maintaining law and order and hold peaceful elections.
In the first phase there are total 1,53,82,615 voters ; 83,91,958 males, 69,90,322 females along with 1014 third gender , would cast their votes in 16635 booths including 3176 critical booths to decide the fate of 96 candidates during the polling to be held on Thursday from 0700 hrs to 1800 hours in the fray.
State Chief Electoral Officer (CEO) Vekenteshwar Lu told UNI here on Wednesday that polling parties have started reaching to their designated booths.
He further said all the booths have been equipped with basic facilities like drinking water, shed and electricity.
"EC will go for live telecast of votes in some selected booths while micro observers will be deployed to oversee the fairness of the polling", he informed.
The highest numbers of 13 candidates are in the fray from Gautam Buddha Nagar seat, Kairana , Baghpat and Bijnore, 12 in Ghaziabad, 11 in Meerut and Saharanpur and 10 in Muzaffarnagar.
The campaigning for the first phase of polls ended at 1700 hours on Tuesday.
On the last day on Tuesday, Congress general secretary (UP east) Priyanka Gandhi Vadra held road shows in Saharanpur and Bijnore while party president Rahul Gandhi gave a total miss in the first phase as his joint rallies with his sister on Monday was cancelled due to bad weather.
Ms Vadra had already held a road show in Ghaziabad while Mr Scindia had addressed couple of meetings in west UP.
Prime Minister Narendra Modi sounded the poll bugle here with his first rally in Meerut on March 28 and it was followed by rallies at Amroha and Saharanpur on April 5.
BJP president Amit Shah held two rallies at Nagina and Bijnore besides going for another couple of rallies for the first two phases.
UP Chief Minister Yogi Adityanath, had already criss-crossed the state with holding several rallies on a daily basis along with other senior leaders of the his party. Mr Yogi held rallies at Meerut and Hapur on Tuesday.
However, the the Samajwadi Party (SP) and the Bahujan Samaj Party (BSP) along with their partners Rashtriya Lok Dal (RLD) organised a joint rally in Deoband in Saharanpur on Sunday in a massive show of unity to launch their campaigning.
Akhilesh Yadav's SP and Mayawati's BSP, along with the Rashtriya Lok Dal, are contesting the Lok Sabha polls together.
The BJP currently holds all the seats, barring Kairana, which it lost to the SP-BSP-RLD alliance in last year's by-poll.
In most of the seats there is a direct fight between the grand alliance (BSP-SP and RLD) and the BJP, but presence of Congress in some seats it has made the contest triangular, giving some 'benefit' to the BJP.
13 Views