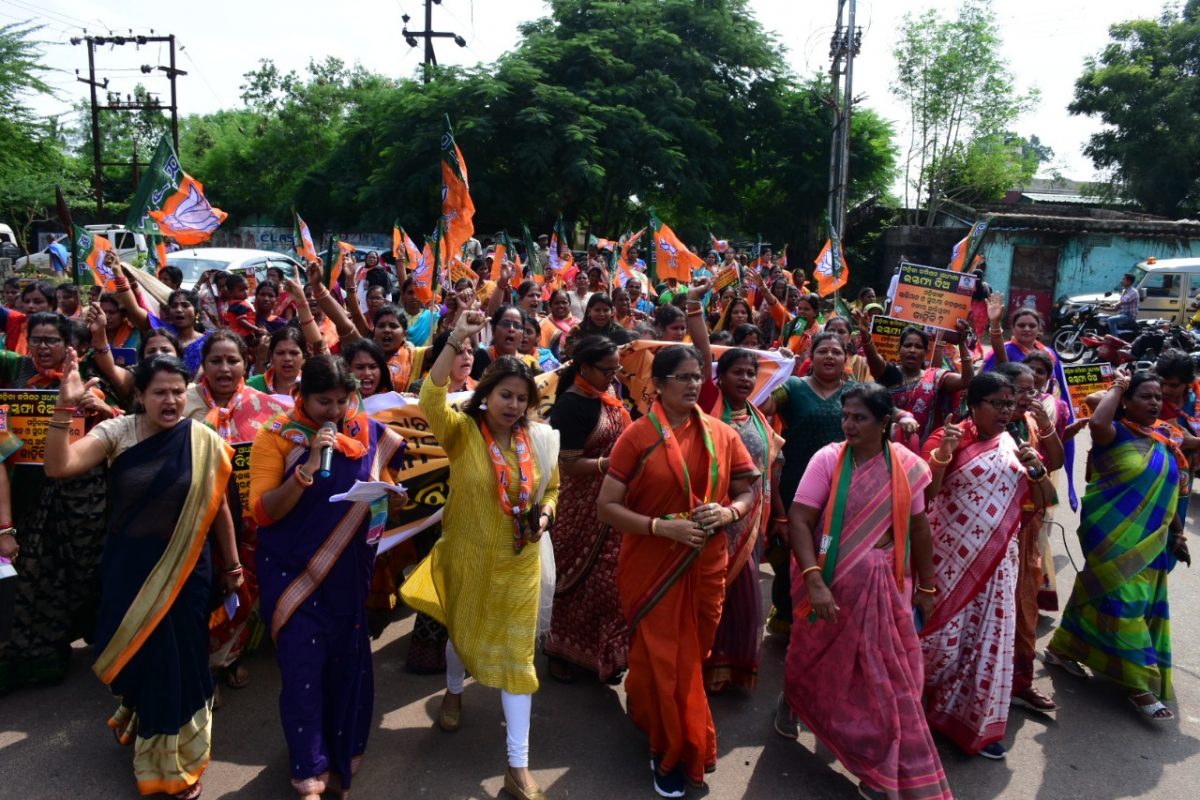 Samikhsya Bureau
Bhubaneswar,Hundreds of activists of Mahila Morcha, the women's wing of the BJP today  gheraoed the office of the state Mahila Commission demanding the resignation of Mahila Commission Chairperson Minati Behera  for her misleading statements in Smitarani Biswal murder case. Smitarani Biswal, Haridaspur Panchayat Executive Officer was found hanging in a guest house at Baligari under Dharmasala Block of the Jajpur district on October 16 last.
The Police have arrested one Rupesh Bhadra in connection with the incident. Police had a tough time to control the women activists of the party as they tried to force their entry into the Mahila Commission Office breaking the police cordon. Odisha BJP Mahila Morcha President Pravati Parida  alleged that Mahia Commission Chairperson Minati Behera remained silent after Smitarani was gang raped and murdered and later tried to mislead the people by stating that she had completed an impartial inquiry into the incident.
The BJP leader said in fact Ms Behera has neither  completed any inquiry nor met any member of Smitarani's family. The Mahila Morcha leader said Ms Behera has undermined her position by making statements like the Spokesperson of the ruling BJD. The Mahila Morcha activists demanded the resignation of the Mahila Commission Chairperson for making false statement and  threatened to launch a state wide protest if she did not step down.
Ms Parida described the Mahila Commission Chairperson's claim that she had visited the spot on October 19 and inquired into the incident as totally false. She said if Ms Behera had conducted an inquiry she should make it public. The BJP Mahila Morcha demanded a CBI inquiry into the incident.
The Mahila Commission Chairperson said the Commission had already visited Haridaspur twice and conducted inquiry. If needed she would visit again for further investigation. But since the inquiry has not been completed the result of the inquiry could not be made public , she said. The BJP and the Congress also demanded a CBI inquiry into the death.  Smitarani's husband and father alleged that she was murdered.
Jajpur SP  C S  Meena said Smitarani had affairs with Rupesh Bhadra  the husband of the  sarpanch of Haridaspur Panchayat and she committed suicide following a quarrel with him. The BJP alleged that the SP  made the  statement without conducting any inquiry  in a bid to suppress the case and demanded strong  action against the SP. the BJP had observed 12-hour Jajpur bandh on October 22 and filed FIRs against the SP in all the 19 Police stations of Jajpur district on October 26 for  allegedly influencing the investigation process and  assassinating the character of Smitarani.
Tags:
48 Views