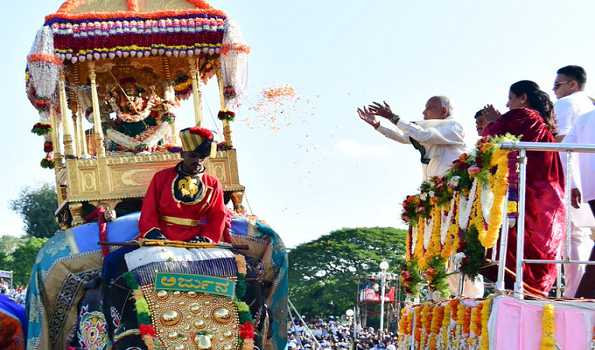 Mysuru, Oct 8 (UNI) The scintillating  display  of daredevil feats of the motorcycle team were among the highlights of the torchlight parade at Bannimantap grounds, concluding the 10-day Dasara festivities,  here on Tuesday.For more than two hours after the programme began with Karnataka Governor Vajubhai Rudabhai Vala  taking a salute from the marching contingents of police, home guards and guides, besides others, the crowd, fill to the capacity of the ground,  was treated to a visual delight.
The daredevilry of the motorcycle team enthralled the audience, with its remarkable feats, on a moving bike. The team members displayed a perfect co-ordination between man and machine. The team also comprised of two clowns, who regaled the children in the audience.A ballet staged by a music troupe from Karnataka, was a welcome addition to the list of events for the torchlight parade. The boys and girls, attired in multi-coloured garments, danced to the lilting music and Kannada lyrics.
With lights in the grounds turned off, the burning torches provided a breath-taking view. To add to the excitement among the audience, various artists, who came here from across the country, performed a number of cultural dances.At the end of the event, there were spectacular fire works. Apart from the Governor, Karnataka Chief Minister BS Yediyurappa, In-Charge Minister V Somanna and other VVIPs attended in the parade.
Tags:
12 Views