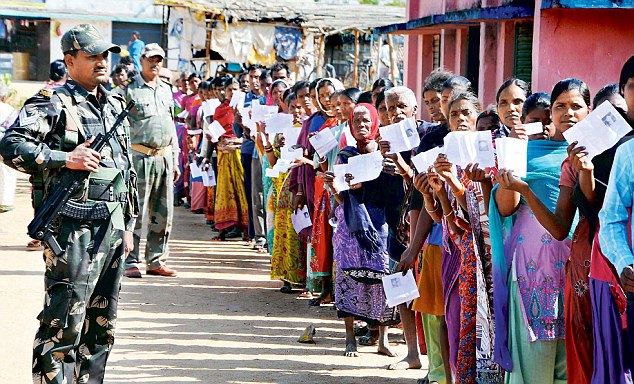 Amid alleged threat and intimidation on opposition voters, polling in Badharghat by-poll of the city has registered 28 percent voting in first two hours across 71 polling stations and there is no report of violence so far, said election officials here.
According to report, a large number of paramilitary personnel have been deployed in the constituency after district magistrate promulgated 144 of CrPC yesterday. All the polling booths are equipped with central paramilitary personnel and Tripura State Rifles (TSR) jawans while state police were engaged outside of the polling stations for patrolling.
The election commission has taken extra measure following attack on CPI (M) supporters' yesterday morning during silent campaign near Agartala Railway station area. Both CPI (M) and Congress had protested the incident and alleged that police did not take any action against the perpetrators rather threatened the opposition to withdraw agitation.
"There was continuous threat from BJP workers in the areas since last evening. The opposition voters have been stopped on their way to polling booths and sent them back with warning of dare consequences. The opposition polling agents were forced to come out from most of the booths within an hour of beginning of the elections," alleged CPI (M) candidate Bulti Biswas.
Meanwhile, BJP candidate Mimi Majumdar denied the allegation and said, "Congress and CPI (M) united together against BJP and raising false allegations against the ruling party, as they know the fate of the elections. People of the state had been suffered for 25 years of communist misrule with the support of Congress and now also they are trying to mislead the common people."
She however, claimed that there is no tension at all and in few places opposition workers attempted to trigger the situation with instigating remarks against BJP but it did not work and added, "BJP workers have been advised not to fall prey into any instigation and indulged into violence."
As many as 57,906 electorates including 28,508 female are expected to exercise their franchise to decide fate of four candidates contesting in SC reserved Badharghat constituency.
Headmistress of government higher secondary school Mimi Majumdar is contesting the election for BJP while CPI (M) councilor of Agartala Municipal Corporation Bulti Biswas, senior congress leader Ratan Das and Mridul Kanti Sarkar of SUCI are in the fray. The Badharghat assembly constituency had been a strong bastion of Congress. In the three consecutive elections Dilip Sarkar had won the seat in 2008 and 2013 as congress
nominee and in 2018 as BJP candidate by a big margin of 5448 votes. But Sarkar's premature death after long sufferings in April this year has left a big void for Congress.
Tags:
18 Views