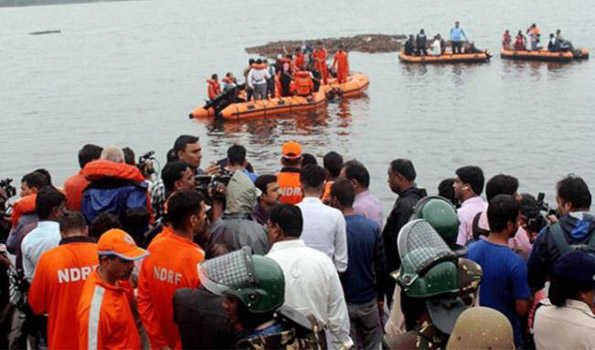 A private launch with 62 people on board, including ten member crew on its way to Papikondalu from Gandipochamma temple in Devipatnam Mandal on East Godavari side has capsized in river Godavari which is in spate between Manturu and Kachhuluru, 90 kms from here around 1400 hrs on Sunday.
According to preliminary reports reaching the district police headquarters here, more than 35 passengers mostly women and children were feared drowned while 14 people with life jackets swam ashore safely. Ten passsengers with life jackets while being washed away were rescued by the villagers of Tootugunta using the motor boats.
Police sources said that two bodies were retrieved and a massive search is on for the missing passengers by engaging the expert local swimmers.
An ONGC helicopter from Rajahmundry and two NDRF teams consisting of sixty members were also pressed into service to carry on the rescue and relief operations.
Being Sunday there was heavy rush of passengers to visit Papikondalu and despite heavy flood and adverse weather conditions the owner decided to resume the private launch that was suspended for the past few days owing to heavy flood.
The launch identified as Royal Vasista left Gandipochamma temple jetty around noon but soon faced technical snag and heavy flood made it turned turtle.
20 Views