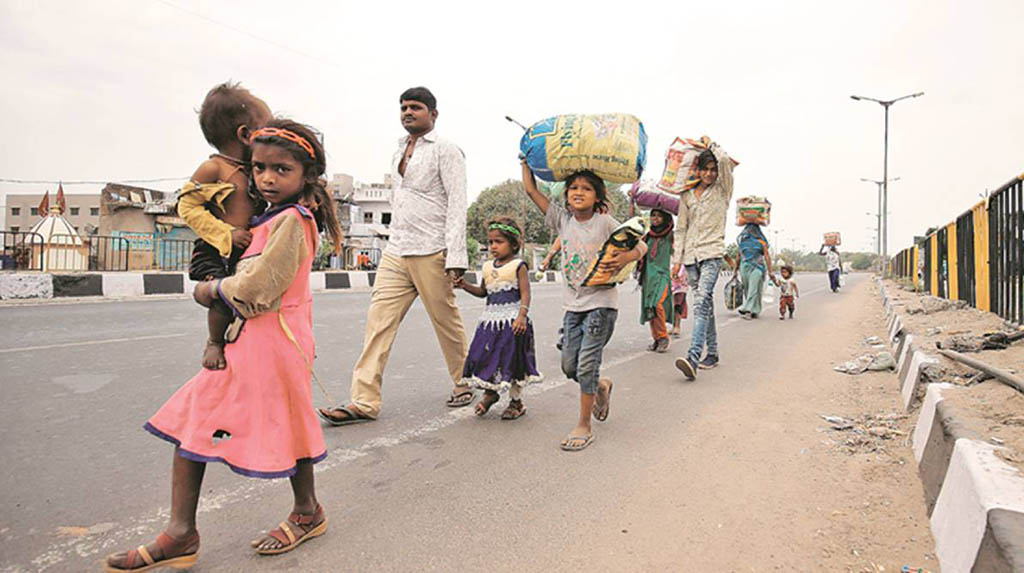 New Delhi; As the nationwide lockdown over the novel coronavirus (Covid-19) crisis entered the second day on Thursday, a huge number of people were trudging back to to their native places in Uttar Pradesh, Bihar and even further.
The people were either forced to travel on foot or on their rickshaws which they plied in the national capital for earning, accompanied by their family members, including the toddlers and women.
Speaking to IANS, Santosh Verma, from Sarath block in Jharkhand, said: "I worked a labourer in a cooler factory in (Delhi's) Wazirganj area. But since Sunday, the factory has been closed. And we are left with no jobs."
He said that he along with his wife and his children has been walking to reach their home in Jharkhand.
"I didn't have the money to feed my family and for this I need to reach my home as there I will earn something by working in farm lands."
He said that it will take him around a week to reach his home on foot.
Similarly several other families were seen leaving their homes in Delhi for their native places in Uttar Pradesh and Bihar in lack of work and shelter.
Kishan Ram, a labourer from Bihar's Motihari, told IANS: "I used to stay in the factory where I worked. And now I am having no shelter to take refuge thus I am left with no option but to walk down to my home.A
Prime Minister Narendra Modi, in his second Special address to the nation announced a complete lockdown for 21 days from March 24 midnight till April 14 as a step to fight the spread of novel coronavirus (Covid-19) in India.
Following the Prime Minister's announcement, the railways suspended passenger train services and the state governments snapped the interstate road transport services to avoid crowding and spread of Covid-19.
Meanwhile, in Uttar Pradesh's Badaun, the police showed its inhuman face as its personnel made the migrating labourers to do sit ups. Senior officers, however, said that they felt ashamed due to the behaviour of these personnel.
Even the people of Rajasthan in Greater Noida were seen migrating to other areas by carrying their household items on the back of their donkeys.
Speaking to IANS, Shano Kunwar said:, "We used to sell balloons and other soft toys near the Gaur chowk. But as there is complete lockdown, we are travelling back to Ajmer."
In Delhi, the Arvind Kejriwal government has initiated the process of providing two meals a day to the people who have been stuck in several parts of the city in view of the lockdown at its night shelters.
But at most of the night shelter centres, the administration was unable to follow the strict guidelines of social distancing and thus people were seen rushing to the centres for the food.
According to Delhi Minister Satyendar Jain, the AAP government in city has opened 225 night shelters at various locations in the city and is planning to open more in the coming days.
On Thursday, the total number of Covid-19 patients in India rose over 650 with 43 new cases. The death toll due to Covid-19 climbed to 14.
522 Views