The Samikhsya Bureau
BHUBANESWAR: The 17th edition of the annual Dhauli-Odisha TourismKalinga Mahotsav will be underway at the foothills of the historic Dhauli here during February 6 to 8.
The festival is being hosted collectively by Odisha Tourism, Orissa Dance Academy, Bhubaneswar and Art Vision, Bhubaneswar.
A brain-child of late legendary Odissi Guru Gangadhar Pradhan, Dhauli Mahotsav was being hosted by his Bhubaneswar-based Orissa Dance Academy showcasing both classical and folk arts traditions.
Similarly, Kalinga Mahotsav, conceptualised by the city-based Italian Odissi and Chhau dancer Ileana Citaristi an exclusive martial dance festival, was also hosted at Dhauli by her Art Vision institution.
The Department of Tourism, known as Odisha Tourism, took an initiative to merge both the festivals into one annual event and became a patron-partner for the renamed Dhauli-Kalinga Mahotsav.
The festival features classical, martial and folk dance styles.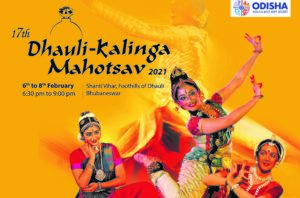 The three-day festival this year will showcase Odissi, Kathak, Bharatanatyam, Kuchipudi and three genres of Chhau dance – Sareikala, Purulia and Mayurbhanj.
Buddha Samman, an award instituted by Orissa dance Academy to honour an eminent personality from the field of culture, will be conferred on Odissi music exponent Guru Gopal Chandra Panda this year.
The Samman, sponsored by Ruchi Pratibha Foundation of Cuttack, carries a citation, angabastra and cash award of Rs.one lakh.
Similarly, Guru Gangadhar Pradhan Smruti Samman, instituted in memory of the late legend, will be presented to four noted persons for their contribution to the field of culture.
They are K. Rama Rao Patro, Carnatic Veena player; Snehaprava Samantray, Odissi dancer; Shyamhari Chakra, journalist and arts critic and Tarakanta Panda, sound designer and music arranger.
Panda, who passed away recently, will be honoured posthumously.
The memorial award carries a citation, angabastra and cash award of Rs. 25,000.
Details of the festival were announced in a press conference hosted at the Orissa Dance Academy by Sachin Ramachandra Jadav, Director of Odisha Tourism, Aruna Mohanty, Secretary of Orissa Dance Academy, Ileana Citaristi, Director of Art Vision and Ratikanta Patnaik, Assistant Director of Odisha Tourism.
246 Views