The Samikhsya Bureau
BHUBANESWAR: The three-day annual Rajarani Music Festival concluded here on Wednesday with scintillating concerts of Odissi Mardal and Hindustani vocal.
Veteran percussionist Guru Satchidananda Das led his troupe that presented a pulsating performance of Odisha's indigenous and unique Mardal tradition.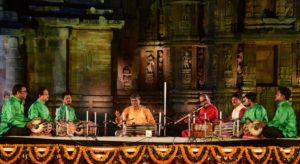 His troupe comprised talented Mardal players Budhanath Swain, Dibakar Parida, Ramachandra Behera, Anup Das, Muralidhara Swain on Mardala; Kulamani Sahoo on Harmonium and Srinibas Satapathy on Flute.
Karnataka based veteran Hindustani vocalist Pandit M Venkatesh Kumar, the final performer of the final evening, rendered raag Kalyan followed by raag Durga and concluded with bhajans.
He was accompanied on Tabla by Keshab Joshi and on harmonium by Satish Koli.
The festival was hosted by Odisha Tourism.
Vishal Kumar Dev, Principal Secretary of Odisha Tourism, was the chief guest of the evening.