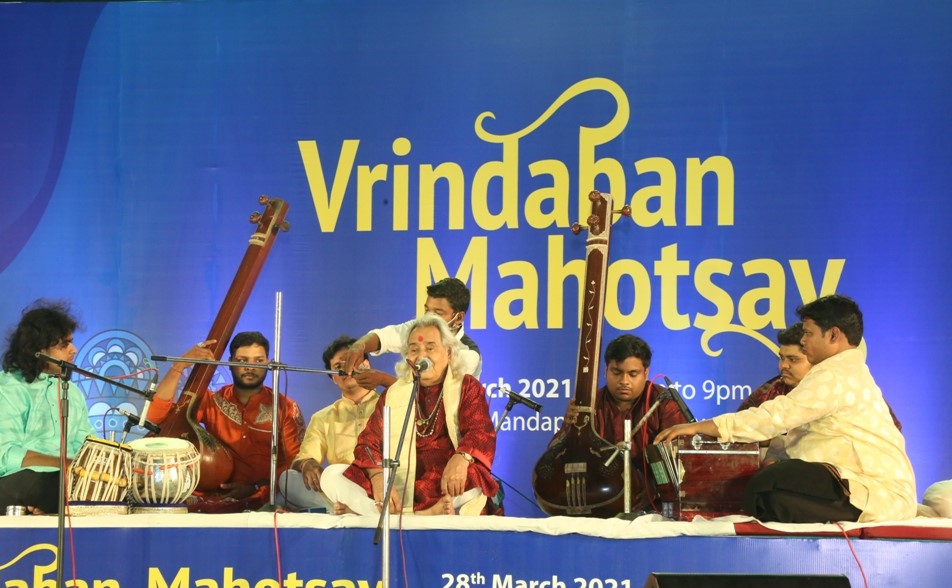 The Samikhsya Bureau
BHUBANESWAR: 'Vrindaban Mahotsav'-2021, the flagship Indian classical music concert was organised by Tourism Department in association with Vrindaban Gurukul Trust, Bhubaneswar today.
Organised every year on the eve of Holi- the festival of colours, the annual musical extravaganza this year held significance as it marks the completion of 11 years of 'Vrindaban Gurukul' founded by renowned flautist Padma Vibhushan Pt. Hariprasad Chaurasia.
The concert was inaugurated by Shreemaye Mishra, Chairperson, OTDC Ltd., Sachin R. Jadhav, Director Tourism, Pushpanjali Chaurasia 'Vrindaban Gurukul' trustee and attended by Vishal Kumar Dev, Principal Secretary Tourism and Durga Prasad Mohapatra, Joint Secretary, Tourism.
The musical soiree witnessed participation of several internationally acclaimed maestros of Indian classical music.
The event kicked-off with a flute recital by the disciples of 'Vrindaban Gurukul'.
It was followed by a mellifluous 'Raag Bahar' by renowned Sarod player Pt. Tejendra Narayan Majumdar. He was accompanied by Pt. Ramkumar Mishra in Tabla player.
The evening's last presentation was Hindustani vocals by Padma Vibhushan Pt. Chhannulal Mishra. His first item was Raag Hansadhwani followed by Lage Tose Nayana, Thumri-Tore Nayana Lagi Katar Sajani and many more.
In a bid to promote our State's music, art and culture, Odisha Tourism has been organising marquee events throughout the year.
Started last year as a joint initiative of Odisha Tourism and Vrindaban Gurukul to bring Indian Classical Music maestros from across the globe on a single platform, 'Vrindaban Mahotsav' has today become a permanent fixture of Odisha Tourism's vibrant events calendar.
283 Views