Shyamhari Chakra
NEW DELHI: The stage is set for the second Santh Shiromani Surdas Mahotsav, a national classical dance and music festival, in Vrindavan on February 9-10.
The two-day event, into its second edition this year, is being hosted and curated by Mumbai-based Kathak dancer and actress Geetanjali Sharma who hails from Mathura.
"As a Braj-ki-ladlee (daughter of the soil), ever since I started learning Kathak, it was my long-cherished dream to have an Indian classical dance and music festival in my own city", revealed Geetanjali, the festival convener.
"Though the people here are quite fond of dance and music, there was no opportunity for them to experience our rich and varied classical dance and music. Thus, being the first Indian classical dancer from Mathura, I had decided to host a classical dance and music festival for my birthplace," she recalled.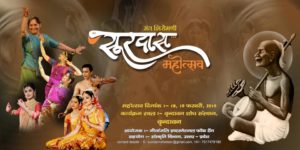 The first edition of the festival was staged in 2019 featuring well-known Kathak  exponent Uma Dogra who is host Geetanjali's guru and principal advisor to her festival, Bharatanatyam exponent Vaibhav Arekar – both from Mumbai – and Kuchipudi exponent Vyjayanti Kashi along with her Ustad Bismillah Khan Yuva Prativa Puraskar winner daughter-disciple Prateekshya Kashi.
However, the festival had to be postponed during 2020 owing to the outbreak of corona virus.
The principal attraction of the Surdas Festival will be, apparently, Bhajan Samrat Anup Jalota from Mumbai whose immensely popular song mein nahni makhan khaiyo is a Surdas song.
"The Braj-basis (people of Braj) are excited to soak in the Bhajan Samrat's soul stirring and mesmerizing Krishna-bhajans", remarked Geetanjali.
She also profoundly thanked Bharatanatyam exponent Geeta Chandran and Kathak exponent Rajendra Gangani, both from New Delhi, for their consent to perform in the festival this year.
The inaugural evening will kick off on Wednesday at 6 pm with Anup Jalota's concert followed by Odissi duet dance presentation by New Delhi based gifted dancers' duo Vrinda Chaddha  and Kevin Bachchan to conclude with group presentation by  the artistes of Kalavriksha Kathak Kendra, Mathura.
Similarly, the second evening, scheduled to start at 6 pm on Thursday, will showcase group presentations led by Geeta Chandran and Rajendra Gangani. The evening will also feature budding singer Gayatri Sharma who will present songs of Surdas.