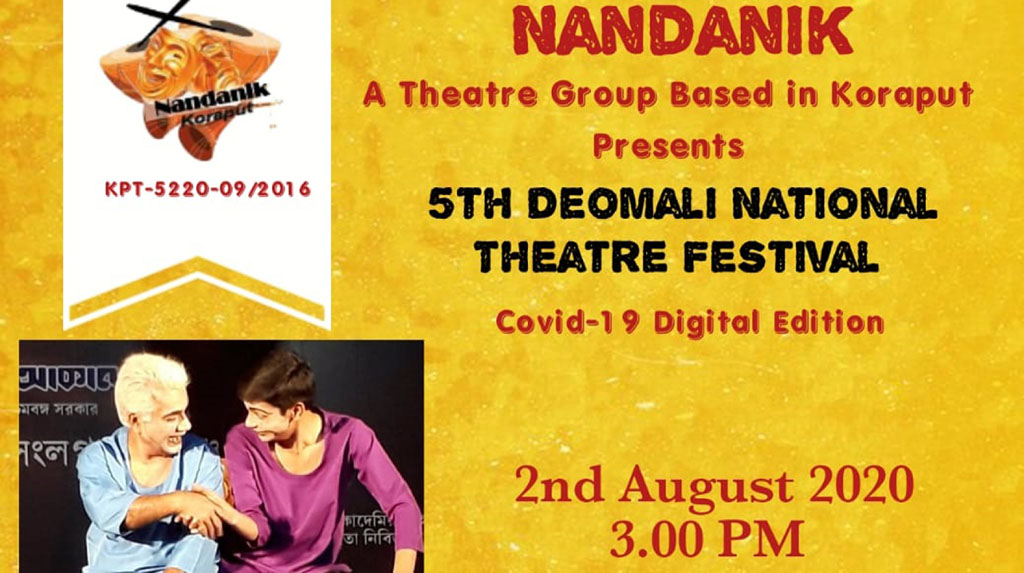 Shyamhari Chakra
Bhubaneswar: Defying the distress caused by the prevailing pandemic for the performing arts, Nandanik, a theatre group based at the district headquarter town of Koraput in Odisha, has resolved to continue its annual national theatre festival, albeit in its virtual format.
The group, that has created a theatre-friendly environment in the underdeveloped tribal region of Koraput in its short span of six years with a series of academic and performance oriented events, was founded by Sourav Gupta and Monideepa Gupta, theatre artiste-couple from Kolkata, who are based at Koraput.
"We decided to host our festival in virtual format this year with two major objectives – to provide moral boost to theatre artistes' community who are distressed due to sudden halt of all stage activities and to encourage people to stay indoors and watch drama online. This way, we would be able to connect the theatre community and theatre connoisseurs together", explained Monideepa.
The three-day event – known as Deomali National Theatre Festival – would commence on August 1 coinciding with the sixth Foundation Day celebrations of Nandanik, informed the hosts.
Into its fifth edition, the festival this year would feature seven plays in five Indian languages; two webinars on theatre, Asim Basu Memorial Award presentation ceremony and the Foundation Day lecture by celebrated dancer, scholar and Parliamentarian Sonal Mansingh.
The plays slated for steaming are Mime by Mimic, Kolkata, Sujaner Golpo in Bangla by Ashoknagar Nattyamukh from West Bengal, Dhruvaswamini in Hindi by Black Soil Theatre, Wardha, Terav in Marathi by Adhyayan Bharati Agro Theatre from Maharashtra, Bali in Telegu by Janapadam Theatre Repertory, Hyderabad; Devigarjan in Bangla by Kathok Performing Repertoire, Howrah and two Odia plays – Chandaluni and Nayeeka, both host Nandanik.
The Asim Basu Award – presented to one of the young theatre artistes of KBK (Koraput-Balangir-Kalahandi) region will be presented to Himanshu Ranjan Mohanty of Kotpad. The award has been instituted by Nandanik in association with Asim Basu Foundation, Bhubaneswar.
The two topics to be deliberated during the seminar are "Theatre & Literature" and "Theatre: Classical versus Folk".
The festival is dedicated to the memory of eminent theatre personalities – Girish Karnad, Usha Ganguly, Irfan Khan and Bijay Mohanty – who passed away in recent times.
252 Views