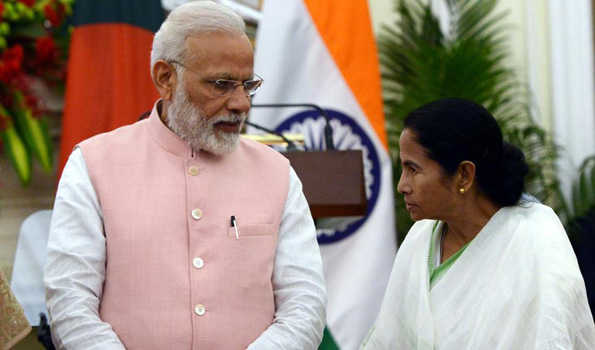 Samikhsya Bureau
Politics has its own dynamics and under that no politician has even been to say himself or herself as an indomitable entity when facing the pressure from the power-that-be. The most recent instance being what has happened to former finance minister P Chidambaram who is now cooling his heals in jail in connection with the INX media money laundering case.
As such, Mamata Banerjee, the chief minister of West Bengal who has so far tried to confront the alleged ' vendetta politics' by the NDA against her, has suddenly found solace in cordiality as the better tool to handle things ahead those might culminate in actions on a few issues she is not comfortable with.
The BJP leaders and also others feel it was a 'different' Mamata Banerjee in the national capital when she met Prime Minister Narendra Modi, invited him for a coal block project inauguration in her state and also expressed keenness to meet Union Home Minister Amit Shah.
It was like a 'surrender' by a firebrand leader, say many detractors of Trinamool Congress supremo and West Bengal Chief Minister.
"It was a case of Mamata Banerjee looking to see a doctor, seeking his help and the senior doctor then deciding to send her to the junior doctor," Congress leader Adhir Ranjan Chowdhury said in reference to  Banerjee's decision to meet Mr Shah after her meeting with Prime Minister on Wednesday.
After her meeting with   Modi, the West Bengal Chief Minister said she would be keen to meet  Shah.
'If I get time, I will meet  Shah tomorrow,' she said.
The proposed meeting between   Banerjee and Amit Shah can take place around 1330 hours.
"In natural course, if Mamata Banerjee wanted to discuss only development matters after meeting Prime Minister, she should go to Finance Minister Nirmala Sitharaman. So the issue is different," said Chowdhury.
Several other leaders have also flayed   Banerjee for taking a 'selfish' route vis-a-vis progress in the probe in the Saradha chit fund case and the interest of the state.
The Left leaders in West Bengal have questioned Banerjee's silence on National Register of Citizens (NRC) exercise when she met Prime Minister.
"Only a few days back, Banerjee staged a street protest in Kolkata saying she will not allow NRC in Bengal, but when she met Prime Minister she did not raise the issue and later said NRC is only an issue for the state of Assam. Then why was she protesting over it in Kolkata?," asked CPI-M leader Sujan Chakraborty.
After her meeting with Prime Minister,   Banerjee had said that NRC did not figure in talks as it was only an issue for the state of Assam based on the agreement the Assam Accord signed in 1985.
The meeting on Wednesday between   Modi and the Chief Minister came within days the CBI dragnet almost touched former police commissioner Rajeev Kumar in the Saradha chit fund case. The cop is absconding during last few days.
Apparently looking for rapprochement with the central BJP leadership whom she bitterly attacked, Trinamool Congress supremo on Wednesday invited Prime Minister to attend a coal block function in Birbhum district in October and also gave a freehand to the centre to 'make suggestions' for changing the name of West Bengal.
"Keeping the word Bangla, if they some suggestion to make; I will not have any objection to accept it," she has said adding "This was a good meeting….I had not visited Prime Minister after he became Prime Minister for the second time".
However, Bengal BJP chief Dilip Ghosh said perhaps the Chief Minister's gesture is coming "too late". Another Bengal BJP leader Rahul Sinha also made light of her meeting with Prime Minister and said: "Mamata Banerjee did not meet Prime Minster for any state related works. She met him only to save her party (on Saradha chit fund case)".  (With UNI inputs)
Tags:
11 Views