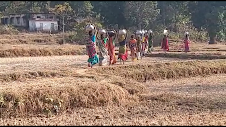 By Manas Behera
Contrary to the claims over myriad welfare schemes being weaved day in and day out,there are villages in some parts of the state where village like Nagada slowly raise their heads.
Where the most basic things like drinking water, road communication, health services and last but not the least, there is no electricity and yet remains a far cry.
Jharjhari village in Mayurbhanj, is although not a thickly populated village unlike few others, here people so far have not tested the joy of electricity, which is yet a big thing to come about.
Let alone power but the village like Jharjhari is so drastically cut off from the outside world that the 400 odd population look up at development as a slogan only, to be read on the walls.
Hard to imagine that after so many years where the population heading for a generation to pass, lack of portable water drive them to fetch water, to drink, from the river or 'nullahs'. It is not difficult to imagine the state of health the villagers face without safe drinking water.
The reaction is chain in nature. Ailments due to unsafe water is a regular feature. Once, people fall sick, for Heaven's sake there is no other means than being carried on a sling to the distantly located health centre at Kranjia. Regardless of what seriousness the ailment might be, there is the common way out from here, is a sling because the road condition (not to be read as road in real sense)does not allow an Ambulance to come to the village Jharjhari.
The people of this village dumped in the ignominy of extreme backwardness are still miles away from safe toilets.
It is not that the local administration is unaware of the ordeals those haunt the villagers, the 700 strong population living in another village nearby, Dangadiha, portrays the similar picture of abject underdevelopment.
The pity is, the local Panchayat made road is about 10 to 20 kms diametrically, from the vicinity and no damned patch is jeepable to allow a vehicle to drive in, let alone development.
Welfare schemes and the bottom realities can be seen running parallel in these areas. 'Our plights get worse in monsoon season and several pleas before the administration fall on deaf ears ' rued Dharma Ho, one villager of Dangdiha, adding that , ' sick people taken on shoulders to as far as the hospital at Karanjia is a real big task '.
And education, that comes here at a dear cost. Children have to trek down 1,5 to 2 kms kilometers to reach the Anganwadi centre.The pain for children doubles once there is no caretaker or the Didi at such centre.
Villager lament that, the concerned Block Development Officer (BDO) had been informed about the basic problems but solutions still appear miles away.
This years monsoon that has become relentless has already compounded the problems of these two villages.It is a fear among the people that they are far from being abandoned as backwards destined to suffer only, as several people and kids mainly have shown signs of deliriums of types.
Former Zilla Parishad president Prakash Soren now only recollects that 5 years back he had visited the villages to witness the sad stories but nothing has changed. Women still frequent walking few kms to collect water from 'nullahs' or streams as the only tube-well in Dangdiha remains defunct perennially. It is perplexing to witness numbers of women with pitchers on their heads walking down the undulated tracks to carry drinking water !
(Manas Behera is a freelance journalist located in Baripada )
120 Views