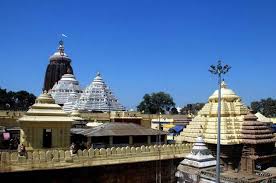 Samikhsya Bureau
It is difficult to count the years or decades that the structures in various shape encircle the temple of lord Jagannath in Puri but, as far memory goes down the line they have been there as part of the assimilation long since. Now, a diktat from the court has it that several such structures around and surrounding the shrine have grown to become the jitters on the way and are required to be removed..
The government accordingly has decided to clean the surrounding by demolishing structures, in whatever shape, coming within 75 metres from the shrine. Whereas, according to the Archaeological Survey of India rules, there should be no structure within one hundred metres from the limits of any ancient monument.
According to an assessment, majority of the structures falling within the firing line are centuries old 'maths' and other structures somehow linked with the past heritage and those, in principle come  under the Endowment Commission. That has made things all the more easy for the administration to carry on with the demolitions.
So the audible hue and cry over the demolition drive, which has already started, seem to have little impact on the local psyche so far. Regardless of the fact that, the 75 mtr yardstick may affect a substantial demographic spread either in the shape of private houses or the clusters like 'Sahis'. Which includes even the palace of the king of Puri.
Although there is a murmur of protest underneath but there is no such reaction from the locals of any eruptive nature. May be, the reason behind the enduring silence of sort is the reason that, the administration ensures adequate compensation as it has happened during similar exercises in Varanasi where the affected were awarded with compensation about six times of the existing valuation.
Why wisdom in hind-sight
It goes without saying that the cluster of structures surrounding the temple vicinity had a slow yet steady impact on the health of the shrine. For example, the discharge of water from all such structures somehow seep into  the outer precincts of the shrines and enfeeble the ancient structures through capillary reactions.
No wrong that the cleanliness and subsequent beautification may be a value addition for pilgrimage and tourism but, the mystery remains as what kept the wiser lot of bureaucrats from foreseeing the things before.
73 Views