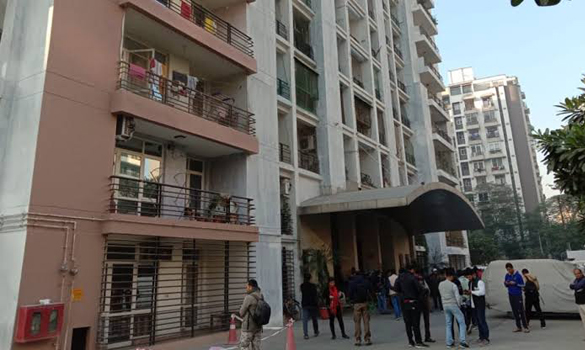 Lucknow, Dec 3: A husband, along with his two wives, jumped from the eighth floor of a building after killing their two children in the posh Indirapuram area of the Ghaziabad district on Tuesday morning.
Senior Superintendent of Police (SSP) Sudhir Kumar Singh informed the state police headquarters here that the a person jumped from the eighth flood of a residential building along with his two wives after killing his two children at around 0500 hrs on Tuesday.
While one of the woman along with the husband died on the spot, the other was critically injured and rushed to a hospital. The family was residing at flat number A-805 in Krishna Apra society where Gulshan Vasudev(46), a native of Jhilmil colony of New Delhi, stayed with his two wives– Praveena and Sanjana along with their two children. In the incident, Gulshan and Praveena were killed on the spot while Sanjana was critically injured.
After the couple jumped from the building, police went in their flat, where they found the bodies of the two children. They also did not even spare their pet cat and killed it along with them. While the girl was strangled to death, the boy was found with his throat slit.
The police also found written on the wall in the flat that they are committing suicide as they debt ridden and even appealed for their mass cremation. However, police was investigating the case.
14 Views