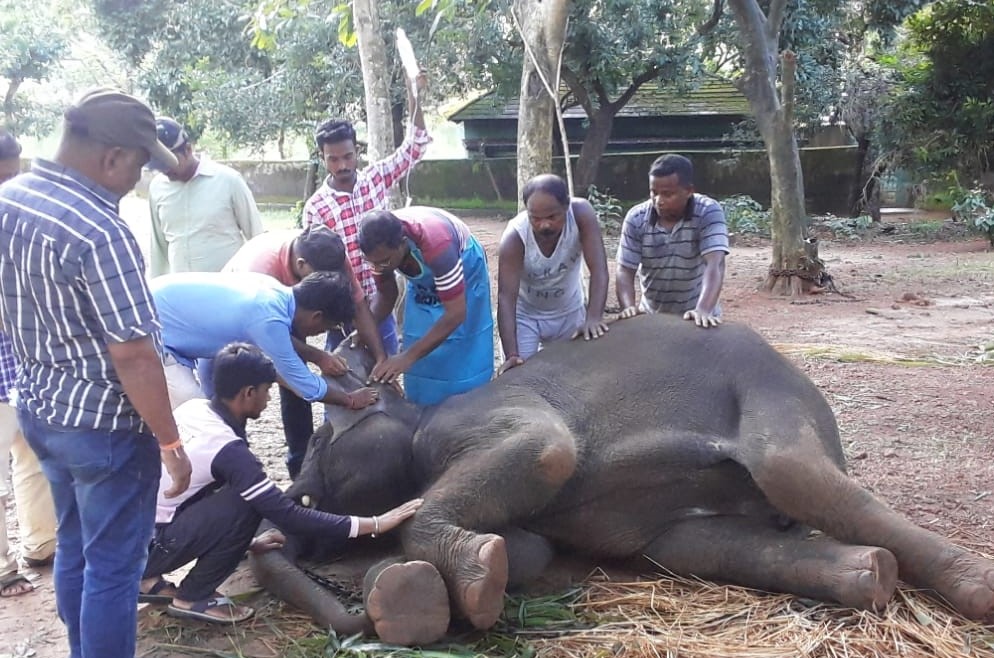 Samikhsya Bureau 
If someone has visited the Nandankanan zoo in Bhubaneswar initially one gets humbled by the vastness of its geography and by myriad varities of inmates inside.
A stroll on the left towards the elephant sheds and an interaction with any keeper, the tug of pride suspddenly ends when we hear in detail how the poor animals met with premature death following an infection by Herpes virus and the pain the victims could not express.
The air around has been saturated with a palpable melancholy that hardly any regular visitor can miss. Eight elephants there have reduced to four only after the deaths of the rest. Reports suggest another elephant inside the Chandaka Elepahnt sanctuary is battling with the same virus attack.
Visitors to the zoo are seen saddened by the yawning gaps in the sheds and embarrassed by the fact that, some precious lives lost and a vestige of a heritage worn uniforms of an official apathy. It is still difficult to know that if the sick elephant in Chandaka is going to survive or not, but for the custodians of the wildlife department such tragedies hardly trigger any tear when the nation keeps ranting the slogans like symbolic nationalism and heritage.
There cannot be worse a contradiction when such, even, symbolism is disguised in cloaks of exuses. That is the real peril we have slowly pushed the heritage to such a pathetic pass .
Casualties of animals in general and elephants in the wild in particular, lace the prime time bulletins those perhaps rebound from the corridors of power. Features like animals in distress fail to jack TRP is not because people do not want to watch and get aware but, it is the sub-standard market mechanism that tuck such news to abscure lengths as ' dwom market'.
Worse of all comes out of the country's one of leading Elephant sanctuaries , Chandaka Elephant Sanctuary, now nearly jostling with the ever-expanding urban monstrosity. Where the wild elephants were used to be as hostage in an island, now have gone away and astray.
No joke that an elephant sanctuary is not only without elephants  the fabulous sanctuary is literally singeing  in the heat of unbridled commercialization.
Why  those structures were allowed there ? That could go to pages to trace into the unholy nexus which is hidden behind the dusty shelves of the officialdom.
Where are the activists!
We pride over nationalism by erecting a Rs.3,000 crore statute to hail the achievements of Sardar Vallahvbhai Patel but we cannot say no to urbanization nor we can rejuvenate the Chandaka sanctuary through a sincere fortification which would cost a pittance compared to what did the statue cost the exchequer !
An overdose of nationalism or heritage may not easy taking along  an identity of a good nationhood without diversity and so is the case of lives outside humanity. Which is wildlife or climate that needs as assemblage of common diversity.
Tags:
43 Views