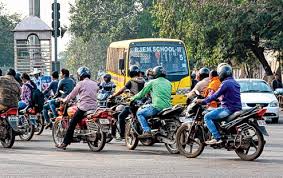 Samikhsya Bureau
The confusion and furry over the recent decision of the road transport authority can only be described that , the left hand does not know what the right is doing!
Very recently the chief minister himself had tried to console the people by granting a respite period of three months within which the people can update their documents etc . However, the CM's order had in it a great relief for the people on roads.
Does it mean that the Transport authorities are negating what the chief minister had told or they are forcing in the new deadline in total disregard to what the chief minister had done.
But, rudely speaking, there may be some mad caps in the department and things would not stop at that and people must be informed as what transpired a situation that the mandarins dared overstepping a limit of respite granted by the CM.
The news that makes round in the social media and newspapers also that, the limit for obtaining pollution certificates for vehicles ends on September 30 and then onwards vehicle owners are bound to get the Pollution Testing Units(PUC) through online from October 1.
That is all about a diktat from the Transport department with just five days left for the Online deadline and there is no need to elaborate the panic and hurry the people in and around the capital city are in.
Long queues have re-emerged again at few operating Pollution Testing Units and the transport officials must come out of their cosy enclosures to see what is happening outside.
It can only be hoped that the chief minister's office takes note of such an abrupt and outlandish decision by the transport authorities.
17 Views